Bleak House at King Alfred Hall, St Andrew's Church, Chippenham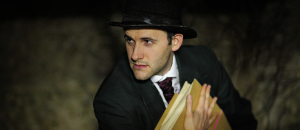 Join The Pantaloons for a fog-filled adventure in Victorian London.
When a dead body is discovered in Mr Krook's Rag-and-Bone shop, a web of mysteries starts to untangle, with far-reaching consequences.
Hilarious, tragic and romantic by turns, Dickens' darkly comic masterpiece is retold by The Pantaloons in their own inimitable style.
A company of five actor-musicians bring the novel's cast of over 50 characters to life in a thrilling tale of love, skulduggery and spontaneous combustion.
Book
Venue Kind Alfred Hall, St Andrew's Church, Chippenham
Market Place
Chippenham
SN15 3HT