Treorchy Male Choir at St. Andrew's Church - 2021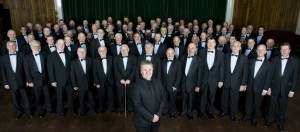 The internationally celebrated Treorchy Male Choir has enchanted audiences around the world for more than 130 years.
***Please note: This performance takes place at St Andrew's Church, Chippenham***
From their Royal Command Performance for Queen Victoria to their appearance at the Royal Variety Show more than a century later, the choir continues to entertain packed houses. The most recorded male voice choir in history with more than ninety albums to their name, Treorchy enjoys an unbeaten competition record and has performed with the likes of Tom Jones, Ella Fitzgerald, Julie Andrews, Burt Bacharach and Shirley Bassey.
The choir has undertaken an enviable number of overseas tours, including two visits to Canada and a performance in Strasbourg Cathedral for its congregation of almost 6,000 people. Four successful tours of the USA followed, with visits to the White House and performances in San Francisco, Denver, Seattle and the Mid West. Treorchy became the first Welsh choir to appear at the Sydney Opera House and in recent years have made three further visits down under appearing in Brisbane, Perth, Adelaide, Canberra and Melbourne.
During their visit in 2009 they also enjoyed a triumphant sell-out concert tour of New Zealand. For the past two years the choir has made unforgettable visits to Monte Carlo at the express permission of His Serene Highness Prince Albert II of Monaco.
This will be the choir's third concert at St Andrew's. Their previous concert sold out and their return to the town is sure to be popular. Book now to avoid disappointment.
***Please note: This performance takes place at St Andrew's Church, Chippenham***
Standard ticket £22
This is a seated event.
Please note: tickets are non-refundable.
Book
Venue St Andrew's Church
Market Place
Chippenham
Wiltshire
SN15 3HT