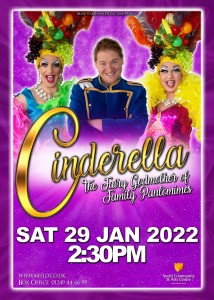 This magical story will be brought to life from page-to-stage in a production created especially for the Neeld Community & Arts Centre, featuring sumptuous scenery, colourful costumes, toe-tapping tunes and laughter by the bucketful!
The timeless tale follows our heroine, the beautiful Cinderella on a mission to make her dreams come true as she heads off to the Royal Ball to meet her very own Prince Charming! But not everything will go quite to plan as her wicked Ugly Stepsisters have more than a few tricks up their sleeves to prevent poor Cinderella from getting her 'Happy Ever After'!
No need to fear though, her HILARIOUS best friend Buttons is always on hand to cheer her up, and with a sprinkle of sparkle, her magical Fairy Godmother will ensure that she gets to the Royal Ball in style!