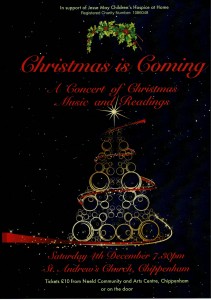 Christmas Is Coming: A Concert of Christmas Music and Readings
Come and join us an evening of music, poetry and prose celebrating the coming of Christmas.
Actors from the Chalfield players explore the magic of Christmas in a selection of readings from Charles Dickens and Anne Bronte to Dr Seuss and Joyce Grenfell.
Music celebrating the true meaning of the Christmas season, both ancient and modern, will be performed by Chorula, a female voice choir and soloists who perform a wide range of Christmas music from well-known carol arrangements to popular Christmas songs.
There is an opportunity to join in with some traditional carols.