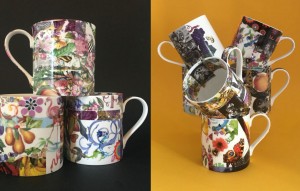 Immerse yourself in a world of pattern, colour and collage and join Blue Artemis at Chippenham Museum to hand decorate your own bone china mug.
Inspired by the maker's unique process and style choose from an eclectic mix of china transfers, many of which are sourced from potteries of the past. Learn how to apply and layer them to create something truly unique.
Your finished piece will be available to collect from the museum after firing, ready to become your favourite mug or gift for someone special.
A number of Blue Artemis pieces are available in the museum shop, including Chippenham baubles and mugs.
Please note: this workshop is suitable for ages 18+ as part of Chippenham Museum's Creative Workshops for Adults series.
Please note: tickets are non-refundable unless this event is cancelled or postponed.