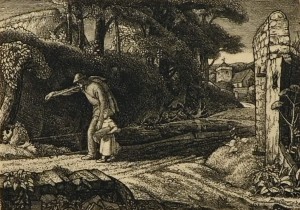 "Robin Tanner was a firm friend of my father, Paul Drury PRE, who was instrumental in helping Robin purchase his first printing press. Robin, though initially enrolled in the teacher trainers' course at Goldsmiths, exhibited precocious etching talent which was spotted by Paul Drury and Graham Sutherland in the etching print studio after hours. This illustrated talk will recount Robin's adoption by the Goldsmiths' etching class of 1921, covering the revival of pastoral printmaking, and Paul and Robin's deep family and professional friendship which endured right through until the end of their lives."
Jolyon Drury's book, "Revelation to Revolution: The Legacy of Samuel Palmer", in which there is substantial coverage of Tanner's early days at Goldsmiths and his subsequent friendship with Paul Drury, is available in the Museum shop.
With an opportunity to view the free exhibition 'Robin Tanner: from Goldsmiths to the Great Depression' between 4pm & 6pm, before the talk.
Standard ticket: £5
Duration: 1 hour
Please contact the venue for any access requirements.
Please note: Tickets are also available through our Box Office on 01249 446699, or alternatively tickets are also available at the Town Hall and Museum.
Tickets are non-refundable unless this event is cancelled or postponed