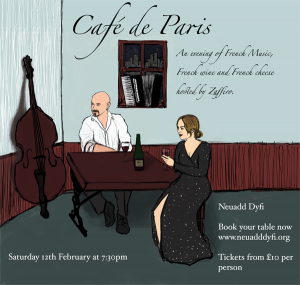 Cafe de Paris 12th February 7.30 pm
We are back in business!....again
Welsh Government rules have relaxed the rules for theatre events but we are mindful that the pandemic is not over. Covid passports are probably required as are masks when moving about. We will try and keep the process Simple Safe and enjoyable.
 So we  ask for your support and co-operation. The prhase you are very familiar with 
 is Socially distanced 
so we are adjusting  our table sizes  with 2.3.4.seats and a couple 5 or 6 to make best use of the space available.  We will try and accomodate individuals who want to come. The hall has good ventilation and tables will have a minimum of 2m between seats .
If tickets are not shown with the number that you need we might be able to adjust the layout please email us on mail@neuadddyfi.org  or call 07977943249
Wine and Cheese!
Yes we propose pre-selling these and you will find these on your booked table on arrival. Price £15 for a basket of French Goodies nominally for 2
Arrival  
We ask you not to all come in the last five minutes but be there in good time and queue up as a complete table and await your call to enter. Masks on please until seated at your table
Run Time
The show is scheduled to be two 45 minute sets with a 10 to 15 minute interval. During the interval we ask you to remain seated unless you need the facilities and then please one at a time with masks on.
Live Streaming 
We are planning to to live stream this show. Price is £10 you will be emailed instructions and a link on the day of the 24th
A digital NHS COVID Pass will probably still be needed
Evidence of a 'recovery' PCR test (taken within the 180 days prior to the screening)
A paper-based letter confirming full vaccination – Paper Vaccination Cards are NOT acceptable. 
Confirmation of a negative lateral flow test (taken within 48 hours prior to the screening)
Please do not make a booking unless you are ideally able to provide one of the above when arriving or other evidence .
Yes we are back in business but the world is a different place . These notes may change as the conditions and rules change....watch this space!