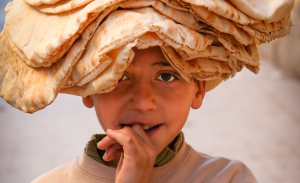 The Syrian Baker  16th October

With almost 5% of the world's population on the move, desperate to get away from trouble, this is a story of those who have decided to go home despite the state of their country. This show is a human story about coming home, knowing where you belong and how small actions can make a big difference in one's life and in re-building a community. It is a piece about humanity, hope and courage told with affection, irrepressible humour and bread - because without bread nothing else will happen - this is about how we all have so much more in common than we realise.
The Maltings is a collection of buildings set in the heart of Farnham that provides a place in which people can imagine, create and discover.  
We aspire to provide the tools, encouragment and opportunities for all types and age of artists to develop their own work both here and across the region.
As well as supporting companies to make and tour work globally, Farnham Maltings also makes, produces and tours its own material nationally, which is especially made for rural touring.