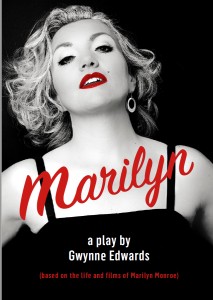 MARILYN: Nicola Burgess
Marilyn brings to life the real woman behind the mask
of one of the best known & loved film stars of the Twentieth Century.
Although her fame rests largely on her image as the "sexy, dumb blonde", in
this starkly confessional one woman show she tells of her
struggle to reconcile herself, her craft & her genius to the demands
made by lovers, teachers, directors & her fellow actors.
MARILYN
written by
Gwynne Edwards ​
From the company that brought you Same Time next Year. Lady in the Van, Very Hard Times and Office song, Marilyn is a solo show, portraying the most celebrated and controversial female icon of the 20th Century and the story of what lay behind her struggle to be taken seriously as a actress and to be understood as a woman, despite all obstacles that were part of her early life. Her shining talent in all the film roles that she played, her compassion, her generosity for others less well off and her true grit in a male dominated world.
The show is written by award-winning writer Gwynne Edwards ( Burton, Dylan Thomas :Clown in the Moon) and directed by Jo Lloyd-Welcome
Director: Jo Lloyd Welcome