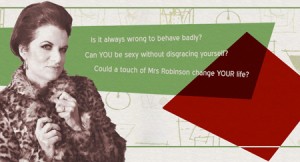 ABOUT THE PERFORMER
Fiona Coffey made her debut on the London cabaret scene with this self-devised tribute to her alter-ego Mrs Robinson in 2015. Over the past 8 years she has developed a performing career as a jazz singer, alongside a day job in which she travelled across the globe, bringing her unique blend of wit, erudition, provocation and sense of drama to a hugely diverse population of executives, as they grappled with the challenges of leadership and organizational change. As a jazz singer she is a regular host at the Ram Jam Club, and has also performed at The Vortex, 606 Club and Crazy Coqs. Over time, she became convinced she was 'more cabaret than jazz' and developing 'A touch of Mrs Robinson' was all the proof required. Delighted by the response to this show, which featured in this year's London Festival of Cabaret, she is now fully immersed in London's cabaret scene; and as well as performing and supporting other artists, she writes and reviews for the New York-based Cabaret Scenes magazine. Fiona's fascination with Mrs Robinson no doubt stemmed from her own position as a woman of a certain age, although as a happily married woman with two grown-up sons, her lifestyle is somewhat different. 'A touch of Mrs Robinson' is her first collaboration with cabaret veteran Harold Sanditen, and international cabaret artist, Michael Roulston, as Director and Musical Director respectively and the show reflects the marrying of their diverse talents.
A touch of Mrs Robinson
Fiona Coffey
Is it wrong to behave badly? Can you be sexy without disgracing yourself? Could a touch of Mrs Robinson change your life? A touch of Mrs Robinson is a new musical cabaret inspired by the woman who seduced The Graduate and became a legend in her own leopard print. With a stylish selection of jazz numbers and Sixties pop songs from artists such as Cilla Black, Dusty Springfield, Burt Bacharach and the Kinks, Fiona Coffey invites audiences to explore Mrs Robinson's journey from college girl, to embittered 50s housewife, to suburban swinger. What made Mrs Robinson seduce a boy half her age? Was she bored? Depraved? Lusty by nature? Or, did the affair with Benjamin kick-start a desperate bid for freedom? A touch of Mrs Robinson has played seven times in 2015 and 2016 to sell-out audiences at top London Cabaret venue The Pheasantry, and was billed as part of the London Festival of Cabaret in 2016 amongst a line-up of international cabaret stars. It has also been performed three times outside of London; The Mill Arts Centre, Banbury on September 15th, Goosfest Arts and Music Festival on October 7th and award-winning Manchester Fringe venue, The Swan at Dobcross on October 8th. The performances at Goosfest and Dobcross sold out a month in advance and all three shows were enthusiastically received. A touch of Mrs Robinson will next be performed at the ArtHouse Cinema in Crouch End on 18th December. Plans are in place for more touring and festival appearances in 2017, the 50th anniversary of The Graduate. This is a witty, provocative and uplifting show that explores the poignancy as well as the humour of Mrs Robinson's story, a rebellious former art student who becomes pregnant out of wedlock and trapped in a dull marriage at a time when intelligent women had few options. It imagines what might have happened to Mrs Robinson after her meltdown affair and why her story still resonates today. The show is directed by cabaret veteran Harold Sanditen, written and performed by Fiona Coffey with music beautifully arranged for piano and either bass, drums or both, by international cabaret artist, Michael Roulston, the show's Musical Director. Audiences have a lot of fun prior to and during the show. Online, or at the venue audiences can take a pre-show quiz "Are you ready for a touch of Mrs Robinson?" and are encouraged to "Get the Mrs Robinson look". On the night, they can come dressed as Mrs Robinson if they wish, with the best look winning a prize. There is an interval competition for the best Mrs Robinson pick-up line. Audience testimonials are shown on the show website www.atouchofmrsrobinson.com. Sample comments include: "A captivating and delightful evening of first rate cabaret" "A touch of Mrs Robinson is a stroke of genius. Revolutionary Road meets Mad Men. A voice like chocolate" "A sensational, witty, poignant, thought-provoking, clever and inspirational show. "Entertaining, thought-provoking, highly musical and great fun" "Sassy, funny and moving" Event organisers have also expressed their appreciation for the show. Sample comments include: "Thank you for coming and giving us a really wonderful concert. The amount of thought and preparation was apparent from the first email from you, right through to the evening itself. We loved all the little touches that go to making it a special occasion. Everyone really enjoyed it and were clearly impressed by your talents." (Landlords, The Swan At Dobcross) "Thank you immensely for such a great evening. Lots of very enthusiastic comments throughout Saturday night and at yesterday's concert…I am just so glad I found your initial information, and to have had so much fun meeting you since and helping to get this fun and clever show "on the road" (Committee Member, Goosfest Arts Festival).