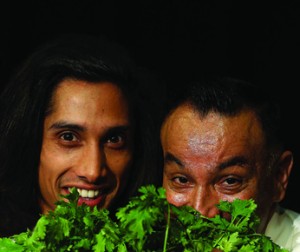 The Chef Show
Backstage tales of what it's like to work on a busy Saturday night in the local curry house.
Two actors play a cast of thousands in heroic and comic tales inspired by interviews with real people in the trade. With a guest performance by Saeed from the Bay of Bengal who will be offering a spicy cookery demonstration.
All to be followed by a chance to taste the food and share conversation with your local chef and the cast.
" This is a chef's special, a deliciously funny and occasionally dramatically-daring concoction of a play ."
British Theatre Guide
Chef Show 18th March
The Chef Show by Nick Ahad from an original idea by Stefan Escreet.
With Guest performance of Saeed from the Bay of Bengal restaurant
Sunday 18 March 201 8-1600
-Tickets £8, £5 children
To be followed by a Banquet 2 course Indian meal for £12
There will be a choice of couple of starters and main meals
Please advise us if you are vegetarian or are bringing children
"The comedy in Stefan Escreet's slick production compliments not-so-funny cultural issues, especially the immigrant experience of prejudice and the still-powerful pull of family ties in Bangladesh."
The Stage
"A stroke of genius. While it makes serious and urgent points that speak to the divisive times in which we are currently living, the play is also very funny. Humour, food and empathy – a potent and winning combination."
The Yorkshire Post
See The Chef Show trailer at https://www.youtube.com/watch?v=kSCsn6Yv18w