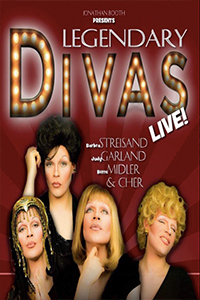 LEGENDARY DIVAS LIVE

SATURDAY 31ST MARCH

£12 / £10 CONCESSIONS - Plus Booking Fees

DOORS + BAR OPEN 7PM - PERFORMANCE STARTS 7.30PM
Looking for something a little different?
What would happen if the four biggest superstars in entertainment history were to share the stage?
Jonathon Booth brings to the stage the magic of four truly iconic women.
Barbara Streisand, Judy Garland, Bette Midler and Cher!
Legendary Divas Live combines music, glamour, comedy, makeup, wigs and gowns to bring all the glamour a Las Vegas revue right here in Skegness!
Limited seats Book Now!
For our customers who require wheelchair access please call our box office direct on 01754 765 592 so we can assist directly with your booking.
Terms & Conditions
Purchased tickets are non-refundable but may be exchanged where possible for another performance time of the same show
Please note: For wheelchair or disabled access please call the box office to book direct
Toddlers under 2 are free if they are sat on parent's knee
Due to our fire regulations and insurance, children over 2 must purchase a seat.
Children at all events must be supervised by a responsible parent/guardian at all times.
We reserve the right to cancel any performance at any time without prior notice and will offer a full refund under these circumstances