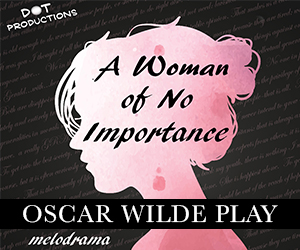 Oscar Wilde's
'A Woman of no Importance'
Presented by DOT Productions.
Thursday 2nd August - Doors 7pm - Show Starts 7.30pm
Tickets £12.00*
*Plus Booking Fees - 50p
"I can never repent. I would rather be your mother than pure"  - Mrs Arbuthnot
Lady Hunstanton's house party is in full swing when Gerald Arbuthnot is announced as secretary to the witty Lord Illingworth. However once Gerald's mother makes an appearance, suddenly his future is uncertain. Should Mrs Arbuthnot tell her son the truth she has hidden all these years? Would Gerald and Society ever forgive her? After all, who would believe Lord Illingworth to be a man of no importance?
Comic melodrama and social scandal bubble away in this classic Oscar Wilde satire. With a cast of 6 and DOT Productions renowned style, this dramatic comedy is guaranteed to delight.
Terms & Conditions
Purchased tickets are non-refundable but may be exchanged where possible for another performance time of the same show
Please note: For our customers who require wheelchair access please call our box office direct on 01754 765 592 so we can assist directly with your booking.
We reserve the right to cancel any performance at any time without prior notice and will offer a full refund under these circumstances