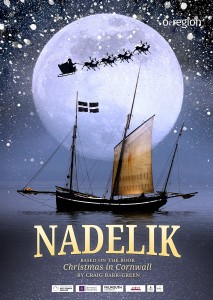 o-region presents
NADELIK
It's Christmas Eve in Cornwall and two little girls and their Gran are excitedly preparing for the big day. But where's dad?
As night falls, their fisherman father is caught in a storm far out at sea. Will he make it home for Christmas? Perhaps — with some extra special help.
Based on the beloved children's book A Christmas in Cornwall by Craig Barr-Green, featuring original live music and songs by Matthew Thomason, NADELIK is a delightful, interactive festive show for children and their families, with live action, puppetry, and a heap of festive cheer.
Suitable for ages 3 - 103
Featuring performers Molly Banks, Jack Brownridge-Kelly, Ben Sutcliffe
Ticket prices: 
£7.50 for adults
£4 for children
And £18 for a discounted a family ticket (2 adults, 2 children)
This show is performed 'plen-an-gwary' style - with the action happening around the audience. Tickets are general admission. For the best immersive experience, the audience will be encouraged to sit on the floor, but there will be some seating available for those who need it.