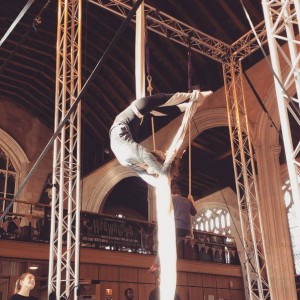 Aerial Silks, also known as Tissu, are a beautiful pair of silks suspended from the ceiling, which allows the participant to climb, perform beautiful wraps and drop gracefully.
| Adult class |12 years + with parental consent | 6 week course
Beginner class:
Tuesdays, 20, 27 Feb, 5, 12, 19, 26 March |
5.45pm - 7.15pm
Suitable for those who have just a little bit of experience. Become comfortable with climbing. Learn to do a foot lock, hip lock, inverted straddle hold, and we'll introduce you to catchers.
Adult Full Price: £85
Students: £68
Complete beginner?
We recommend our
Intro to Aerial course
, so you can try out a mix of apparatus and see which suits you best! Learn the basic principles behind aerial disciplines and build up your confidence in a class with other total beginners.