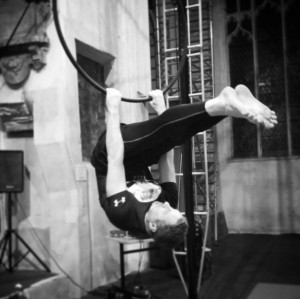 One of the most recognisable and popular pieces of aerial equipment, the Aerial Hoop lets you work underneath, inside and above the hoop. Learn to safely hang, balance, roll, spin and create beautiful body positions. Hoop is a great way to increase your upper body and core strength and become more aware of your body.
| Adult class |12 years + with parental consent | 6 week course
Beginner class | Mondays
16, 23, 30 April and 7, 14, 21 May |
5.45pm - 7.15pm
Suitable for those with just a little bit of experience and those who have not trained for a while and are looking to regain confidence on the equipment.
Adult Full Price: £85
Students: £68
Drop in price £15 per session, pay on the door (subject to availability)
Complete beginner?
We recommend our
Intro to Aerial course
, so you can try out a mix of apparatus and see which suits you best! Learn the basic principles behind aerial disciplines and build up your confidence in a class with other total beginners.