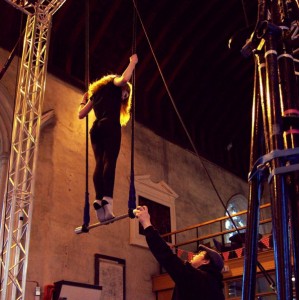 Static Trapeze does not involve swinging and jumping from the trapeze. Instead participants learn to perform moves under the bar, over the bar and in the ropes to develop an impressive and graceful routine. This course is suitable for those with just a little bit of experience and those who have not trained for a while and are looking to regain confidence on the equipment. We will cover moves such as Straddle, Pike, Mermaid, Amazon and Birds Nest, as well as working on front and back balances.
Adult class | 12 years + with parental consent | 6 week course
​Tuesdays
17, 24 April and 1, 8, 15, 22 May |
5.45pm - 7.15pm
Adult Full Price: £85
Students: £68
Drop in price £15 per session, pay on the door (subject to availability)
Complete beginner?
We recommend our
Intro to Aerial
course, so you can try out a mix of apparatus and see which suits you best! Learn the basic principles behind aerial disciplines and build up your confidence in a class with other total beginners.