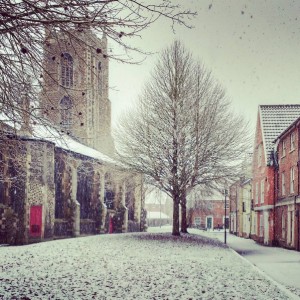 The Oak Circus Centre in central Norwich will be presenting their Dickens themed cabaret for all ages, A Christmas Circus Carol, on Friday 15, Saturday 16 and Sunday 17 December.
Inspired by Charles Dickens' A Christmas Carol, the show will give both children and adults from The Oaks' popular circus courses the unique opportunity to perform alongside seasoned professionals from Norwich's multinational Lost in Translation Circus company. It will also give a taster of the sort of skills people of all ages can learn at The Oak throughout the year.
Lost in Translation are rapidly becoming established as one of the country's leading and best-loved contemporary circus companies for their trademark warm humour combined with heart-stoppingly virtuosic skilful aerial and floor acrobatics. The professional performers will include Co-Director Massimiliano Rossetti and core artist Roisin Morris who are the Guinness World Record holders for most somersaults on a Korean Cradle in one minute.
A Christmas Circus Carol
Friday
night will see performances from our growing community of adult students followed by our professional LiT Circus tutors.
Saturday
night will showcase performances from our smallest circus enthusiasts from our youth circus programme, our adult students as well as a performance from LiT Circus.
Sunday
we'll be presenting young students from Norwich's Central School of Dance alongside a performance from our LiT Circus tutors.
Friday 15 and Saturday 16 December 7pm
Sunday 17 December 5pm
The Oak Circus Centre
, Oak St, Norwich NR3 3AE
www.theoakcircuscentre.org
01603 568 634
Tickets £5