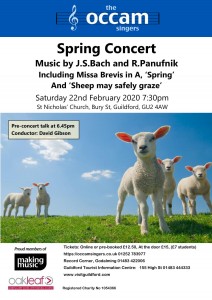 Saturday 22nd February 2020 at 7:30 pm.  Pre-concert talk at 6:45
The Occam Singers perform music by J S Bach and R Panufnik including Missa Brevis in A, "Spring" and "Sheep May safely graze"
conducted by David Gibson. 
For this concert we are offering a 3rd ticket free of charge for every 2 tickets purchased. 
Spring is coming! Come and join the Occam Singers as we look forward to brighter days, with a programme of music by JS Bach and Roxanna Panufnik. Alongside a performance of Bach's incredibly popular aria for soprano 'Sheep may Safely Graze', the choir will perform Bach's joyous Missa Brevis in A, a redeployment of some of his most exquisite cantata material set to the Latin text of the Kyrie and Gloria. The orchestra will also play Bach's Orchestral Suite no 2, full of lively dances and thebright sound of solo flute, suggestive of a happy court celebration.Roxanna Panufnik's setting of Gerard Manley Hopkins' poem 'Spring' is a piece full of evocative word-painting, portraying life bursting from the death of winter. It is a work characterised byoptimism and hope. As the composer says in the preface to this music "Whatever winters lie ahead of us, they will always be followed by spring."
Tickets £12.50 Standard / £ 11.50 Friends of the Occam Singers / non-singing members / £ 7 Students/ £ 0 Free ticket if 2 tickets purchased