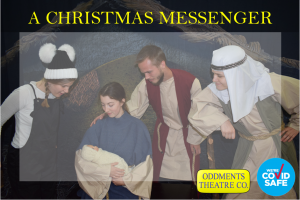 FUN FOR ALL THE FAMILY!

A Christmas Messenger
 is a comedic look at the nativity story, told from the point of view of a very special character who is told there is no part for her in this year's nativity play. Join us as we travel back to the time of Mary and Joseph on a mission to prove that Christmas, and the Nativity story, is for everyone.
We currently have 36 seats available in total across 12 pods. Some seat 1-2 people, others seat 3-4. Prices have been calculated according to pod size, not how many seats you will be using on the day.
We ask that you do not book to share a pod with anyone outside of your household or support bubble.
Please note: There is a £2 admin fee in addition to your ticket price to help us cover the cost of using an external booking system.
Refund policy:
To ensure our charity is able to keep going through this difficult time, if an event is cancelled due to COVID restrictions, you will be issued a 50% refund or a voucher for the full value of your ticket towards another show in the next 12 months.
Please contact us:
- If this event is fully booked and you'd like to be added to our waiting list. We will contact you if any spaces become available.
- Before booking if you require space for a wheelchair as some pods have steps leading up to the seating.

info@oddments-theatre.co.uk
01935 471547