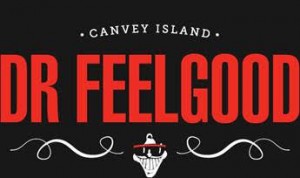 HISTORIC LAVENHAM SUMMER FESTIVAL 2019
Dr Feelgood - Britain's Premier Rhythm & Blues Band  
Formed on Canvey Island in Essex in the early 1970s, Dr. Feelgood remains one of the most popular and exciting live rhythm and blues acts in the world. The raw and uncompromising style of their performance resulted in the album Stupidity that immediately went to the number one position in the U.K. charts.
 
Dr. Feelgood have also enjoyed global success with a string of hit singles including Milk and Alcohol, Roxette, Back in the Night, Down at the Doctors, She Does it Right, Going Back Home and See You Later Alligator - which gave the group their first gold record.
 
The current line up features the rhythm section Kevin Morris on drums and Phil Mitchell on bass, both 29 years in the band and Steve Walwyn on guitar who has been with the band for 23 years. Vocalist Robert Kane (formerly of the Animals) is the most recent addition – joining in 1999 after the tragic death of Lee Brilleaux. The band continues to tour extensively throughout the World and enjoy a loyal following at home and abroad.

Do not miss this opportunity to see this All Evening Dr Feelgood Show.

Click here https://youtu.be/iHm7uIC84YM to experience classic Dr Feelgood 'She Does It Right'
Click here https://youtu.be/K1sx6Wak_1Q to experience DR FEELGOOD as they are now.
The Bar area will be open from 7pm and the Hall from 8pm.
This is a STANDING show.  For all disabled bookings or seats specifically required, please contact OEP Live! direct on 01256 416384.
Why not also stay the Night in Lavenham and experience the magic of Lavenham and surrounding areas . You will not be disappointed.  We recommend the Lavenham Priory (01787 247404 / www.lavenhampriory.co.uk).  Stay right in the heart of Historic Lavenham where you will be looked after in style by Jonathan and Ruby and just a couple doors away from the house where Harry Potter was born!! Or at The Angel Hotel in the historic Lavenham Square (01787 247388 / www.theangellavenham.co.uk) where John Lennon and Yoko Ono filmed in December 1969.  Click here 
https://youtu.be/o7iwa7aTCOc
 and go back in time.  Also, please do enquire at The Angel Lavenham for pre-show and after show meals. Great service, food and Accommodation – Landlord John and his staff will look after you personally. Mention Dr Feelgood.
You can find all our shows on Facebook: www.facebook.com/oeplive. Please do take a look and Like our page.
Saturday, 15th June 2019
Show:
 8.30PM Doors: 7.00PM 
Tickets:
 General Admission £24.75 (inc booking fee)