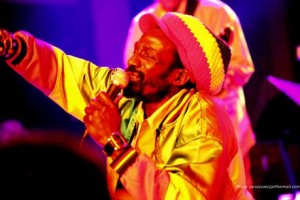 It's hard to believe but 2019 sees 38 years since Bob Marley passed away in May 1981.
''Life is one big road with lots of signs. So when you riding through the ruts, don't complicate your mind. Flee from hate, mischief and jealousy. Don't bury your thoughts, put your vision to reality. Wake Up and Live!'' – Bob Marley.  
LEGEND recreate lovingly BOB MARLEY & THE WAILERS in a full Live evening show, like no other band. Great musicians and singers sincerely dedicated to The Music, The Memories and most importantly THE VIBE!  This dynamic band, led by the charismatic Michael Anton Phillips have a pedigree second to none, whose members have worked with such reggae greats as: The Mighty Diamonds, Dennis Brown, Rankin Roger, The Beat, Burning Spear, Apache Indian,  Errol Dunkley, George and Desmond Decker, Musical Youth and many more.  It just doesn't get any better so come 'meet those dancing feet' !  
This all evening show is jam packed with classic album tracks and greatest hits including :- * Is this love * No Woman No Cry *Could you be Loved * Three Little Birds * Buffalo Soldier *  Get Up Stand Up  * Stir It Up * One Love/People Get Ready * I Shot the Sherriff * Waiting In Vain * Redemption Song * Satisfy My Soul * Exodus * Jamming ……………and much more!                                                                              
Click here to remind you of the Legacy of Bob Marley: 
http://youtu.be/XwVwjIGLczQ
  And to view part of this live show:- 
http://youtu.be/460myCDhR-Q
 also 
http://youtu.be/7we0eJQvLEg
This show has Reserved Seating and Standing Tickets available.
PARKING
: Easy Free nearby Parking to Venue on Market Hill directly in front of St Peters.  Adjacent Streets and nearby free Car Parks.
TOILETS:
 St Peter's has no toilets. However, we have made arrangements with Prado Lounge which is adjacent to the venue and has extensive toilets (inc disabled). These toilets can be used at anytime during the show. Also why not stop by at Prado Lounge and enjoy a pre-show meal. Prado Lounge is open until 12 midnight Friday and Saturday.
All disabled bookings directly through OEP Live! on 01256 416384

You can find all our shows on Facebook: 
www.facebook.com/oeplive
. Please do take a look and Like our page.
Saturday, 29th June 2019
Show:
 7.30PM Doors: 6.45PM 
Tickets:
 Reserved Seating £22.50 / Standing tickets £21.50 (inc booking fee)