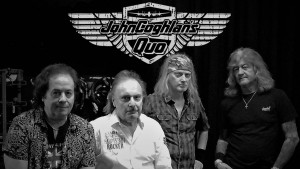 JOHN COGHLAN'S QUO

John Coghlan's Quo featuring John Coghlan - The Heartbeat of Quo.  Original Quo drummer John Coghlan, with his great band, brings you a night of vintage Quo from the period he performed with Status Quo 1962 - 1981.

John Coghlan joined Francis Rossi and Alan Lancaster in their newly-formed band 'The Spectres' in 1962. The group went through a series of name changes, including Traffic Jam, before becoming Status Quo in the late 60s when Rick Parfitt also joined the line-up. In the years that followed, a string of chart-topping hits include * Pictures Of Matchstick Men * Ice In the Sun * Down The Dustpipe * In My Chair * Paper Plane * Mean Girl * Caroline * Break The Rules * Down Down * Roll Over Lay Down * Rain * Mystery Song * Wild Side Of Life * Rocking All Over The World * Again And Again * Whatever You Want * Living On An Island * What You're Proposing *.  For Quo fans and critics alike, this time is often regarded as Quo's "Classic" period.

Since leaving Quo, John has worked with many noted and diverse musicians, in his own Diesel Band; with Partners In Crime; and the 'Rockers' featuring Phil Lynott, Roy Wood and Chas Hodges. Other collaborations have included Noel Redding (ex-Jimi Hendrix) and Eric Bell (ex-Thin Lizzy).  In 2013 and 2014, John rejoined Francis Rossi, Rick Parfitt and Alan Lancaster for the two sell-out Status Quo Frantic Four Reunion Tours, appearing all over the UK and Europe and reigniting the excitement of the early days of Quo.

During the late nineties John Coghlan's Quo was formed and through various line-ups has enjoyed regular gigs all over the UK and Europe. The current band consists of John on drums, with Mick Hughes on guitar and vocals, Rick Chase on bass and vocals, and Pete Mace on guitar and vocals completing the line-up. 
John Coghlan's Quo - The prime aim is to recreate an authentic "70's Quo Sound" in keeping with John's time with Quo. For Quo fans and critics alike, this time is often regarded as Quo's "Classic" period.
Quote from MetalTalk.netcritic, Mark Taylor

'John Coghlan's Quo take you on a joyous journey of his golden past in one of the most celebrated and much loved rock bands the UK has ever produced. A night of beer-raising, feelgood factor Status Quo classics'
BUSTER JAMES BAND
This high energy rockin' blues band features front man Roger James with his charismatic personality and outstanding vocal abilities, backed by Richard Young and Mark Holmes. Add the solid rhythm section Paul Hale and Del Fletcher and you have a juggernaut of timeless classic rock.

This show is Reserved Seating and Standing with Licenced Bar at rear of hall - open throughout concert. 
PARKING
: Easy Free nearby Parking to Venue on Market Hill directly in front of St Peters.  Adjacent Streets and nearby free Car Parks.
TOILETS:
 St Peter's has no toilets. However, we have made arrangements with Prado Lounge which is adjacent to the venue and has extensive toilets (inc disabled). These toilets can be used at anytime during the show. Also why not stop by at Prado Lounge and enjoy a pre-show meal. Prado Lounge is open until 11pm on Sundays.
All disabled bookings directly through OEP Live! on 01256 416384
You can find all our shows on Facebook: www.facebook.com/oeplive. Please do take a look and Like our page.
Sunday, 20th October 2019
Show:
 7.30PM Doors: 6.45PM 
Tickets:
 Reserved Seating/Standing £23.50 (inc booking fee)