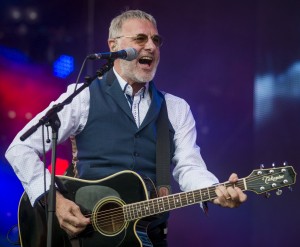 Steve Harley
, the original Cockney Rebel, tours frequently with his Acoustic Trio, playing an intimate, unique and atmospheric show. The performance promises subtle lyricism, mingled with great improvisation and rocky rhythms.
Close-Up Culture: 
"An intimate night in the presence of a great musician. An individual whose passion for live performance and perfection (it shows in his face) remains undiminished."
Harley 
received a Lifetime Achievement Award for Acoustic Music
 from the Acoustic Festival of Britain in June 2018.  
Steve will be accompanied by his Cockney Rebel bandmates of long-standing, Barry Wickens [violin & guitar] and James Lascelles [piano and percussion].  The set will be built around tracks from any or all 13 of Steve's original albums and will include all-time favourites like 
Mr Soft, Judy Teen, Mr Raffles, Sebastian,
 and of course the world-wide classic hit, 
Make Me Smile (Come Up And See Me)
, all blending in with more recent tracks from critically-acclaimed albums 
The Quality Of Mercy
 and 
Stranger Comes To Town.
 "Playing the songs in an acoustic format gives me time and space to enjoy every second. And we improvise, which is always a big excitement for any musician. We can loosen off the arrangements and really explore. It gets pretty exciting during the acoustic sets," says 
Steve Harley.
Steve Harley Acoustic Trio perform a set which is an unmissable chance for fans to connect with the man.
Rod Stewart has described as
 "One of the finest lyricists Britain has ever produced", in a special setting.  MOJO
said simply, "Harley creates rock songs that are proud, lyrical and full of
yearning."  Steve has also been described as "A consummate performer at the top of his game," and this show will bear that out.
Most recently, Close-Up Culture described Harley's acoustic performance as "Achingly beautiful".
This show is Reserved Seating.
All disabled bookings directly through OEP Live! on 
01256 416384
You can find all our shows on Facebook: 
www.facebook.com/oeplive
. Please do take a look and Like our page.
Sunday, 15th December 2019
Show:
 7.30PM  Doors: 7.00PM
Tickets:
 £32.45 (inc booking fee)