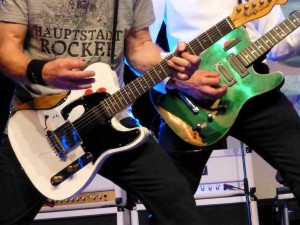 The UK's Number One Status Quo Tribute Show!
"An excellent show, really capturing the essence of the Quo I played with for 13 odd years – the attention to detail is awesome!" MATT LETLEY - Status Quo drummer 2000-2013
Rockin' All Over The World -  Whatever You Want – Down Down – Living On An Island – In The Army Now - What You're Proposing – Burning Bridges… just a few of the many hits spreading five decades of Status Quo's incredible music history.  
'The Quo Experience' is an East Anglian based band including David Wood as 'Francis Rossi' and Dave Crawte as 'Rick Parfitt'; both have spent years studying every detail of Rossi and Parfitt's looks, playing styles and stage performances to make sure they are both as close to the real thing on stage as is possible, without actually being the legendary rock duo themselves! The magic and chemistry that the Parfitt/Rossi partnership brought to a Quo 'live' performance is now being continued within The Quo Experience.
However, The Quo Experience is not all about Rick and Francis; it also features Graham Partridge, who captures the magic of Status Quo's long-term keyboard player Andy Bown's playing and vocals perfectly; plus Ian 'Jaspa' Woodthorpe on drums and Del Fletcher on bass, who together help create the Status Quo 'live' sound every fan expects to hear!
With such an impressive line-up of seriously experienced musicians and passionate Quo fans, along with a stage show that includes the legendary Status Quo wall of white Marshalls and replica guitars, The Quo Experience is fully armed to take the act as far as is possibly achievable in the tribute band industry. The Quo Experience is, however, not just another Quo tribute band - it is an 'experience'; an ongoing chance to 'experience' the sounds and looks of "Britain's biggest singles chart band of all time" as we all remember it!
The Quo Experience feel proud and privileged to have had the legendary Status Quo drummer Matt Letley play many full shows with the band during 2017 and 2018. This goes to show the Quo Experience are not just another Status Quo tribute band but an act worth seeing by any Quo fan along with others who may not have seen the real Status Quo 'live'.
The Quo Experience now feel honoured to be represented by Rick Parfitt's widow Lyndsay Parfitt at 'Lyndsay Parfitt Promotions'!
"I feel very proud to be working with the UK's number one Status Quo tribute act 'The Quo Experience' to help keep my late husband's name and music alive. This is a tribute act that does everything right... the show, the sound and the mannerisms... a band well worth seeing and a fitting tribute to Rick and Status Quo" – Lyndsay Parfitt  
www.thequoexperience.co.uk
This show is Reserved Seating & Standing.
All disabled bookings directly through OEP Live! on 
01256 416384
PARKING
: Easy Free nearby Parking to Venue on Market Hill directly in front of St Peters.  Adjacent Streets and nearby free Car Parks.
TOILETS:
 St Peter's has no toilets. However, we have made arrangements with Prado Lounge which is adjacent to the venue and has extensive toilets (inc disabled). These toilets can be used at anytime during the show. Also why not stop by at Prado Lounge and enjoy a pre-show meal. Prado Lounge is open until 12 midnight Friday and Saturday.
You can find all our shows on Facebook: 
www.facebook.com/oeplive
. Please do take a look and Like our page.
Saturday, 25th January 2020
Show:
 7.30PM Doors: 6.45PM 
Tickets
: Reserved Seating & Standing £23.65 (inc booking fee)