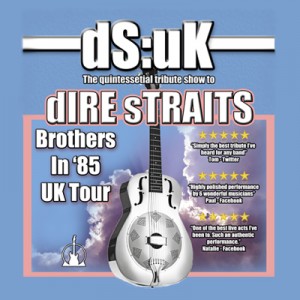 During the 80's and 90's, Dire Straits were one of the biggest music brands and concert touring bands in the world. Still today, Mark Knopfler remains one of the most beloved guitarists in modern Rock.
Their biggest album, Brothers in Arms, released in 1985 still sits in the top 10 of the best selling albums in chart history. 
"dS:uK…in tribute to Dire Straits" began touring in 2016 and have quickly become regarded as *the* quintessential tribute band among Dire Straits fans with their incredible attention to musical and sonic detail. To say that "dS:uK" sound and feel like Dire Straits is an understatement.
Their 2020 "Brothers in 85" tour pays tribute to the worldwide Brothers in Arms tour, with the band bringing fans the ultimate 1985 Dire Straits experience and all of those classic songs that fans want to hear and fans want to play!!
All the hits and classic album tracks are there and more including * Sultans of Swing * Romeo & Juliet * Tunnel of Love * Walk of life * Private Investigations * Money for Nothing * Brothers in Arms to mention but a few .
Here comes Johnny singing oldies goldies…. it'll truly give you a shiver in the dark!  Don't miss it!
http://www.direstraitstribute.co.uk/
Click on link: Sultan of Swing - 
https://www.youtube.com/watch?v=rSw9Azjik7k
This show is Reserved Seating.
All disabled bookings directly through OEP Live! on 
01256 416384
PARKING
: Easy Free nearby Parking to Venue on Market Hill directly in front of St Peters.  Adjacent Streets and nearby free Car Parks.
TOILETS:
 St Peter's has no toilets. However, we have made arrangements with Prado Lounge which is adjacent to the venue and has extensive toilets (inc disabled). These toilets can be used at anytime during the show. Also why not stop by at Prado Lounge and enjoy a pre-show meal. Prado Lounge is open until 12 midnight Friday and Saturday.
You can find all our shows on Facebook: 
www.facebook.com/oeplive
. Please do take a look and Like our page.
Saturday, 20th March 2021 Show:
 7.30PM Doors: 6.45PM 
Tickets:
Reserved Seating £23.65 (inc booking fee)