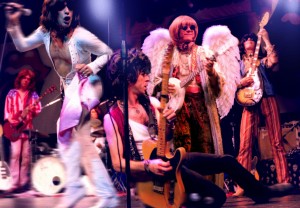 A Rock'n'Roll Circus is coming to town… everything seems to be ready... is everyone ready?  All the hits and classic Album tracks and more.
A tribute to The Rolling Stones focusing on the early part of their career from 1964 - 1969 including 'Jumping Jack Flash', 'Paint It Black', 'Not Fade Away' and 'Satisfaction'.
They have been described by The Times as 'better than the real thing' and have been revered by both Stones fans for their authenticity and the real Stones who booked them for the band's birthday.
With a Rollin Stoned show, the costumes are shamelessly camp gaudy and fab, the instruments genuinely vintage and the wit irreverent. However while the tongue is never far from the cheek we make sure it is never to the detriment of the music.
A typical two hour show includes not only all the classic crowd pleasing hits, but is spiced with enough eclectic selections from the deeper recesses of Stones Album archives to satisfy the most demanding of "Buffs", all performed with the same vibrantly authentic attack and raw energy that characterised the original Stones shows in their prime.
For those who witnessed the Stones - Brian Jones et al - in their hey Day, this is a chance to revisit lost youth, for the rest of you, now's your chance to see what all the fuss was about. Named "Best Tribute Band" in the UK by The Stage Magazine.
Keith Richards' own mother, Doris, was kind enough to describe us as "outstanding" and fit to "stand in for the Stones" which is about as good an endorsement as any could wish.
 "…phenomenal... I can't wait to tell Keith and Mick that you could easily stand in for them"
Doris Richards (Keith's Mum)
"...like watching my dad"
Keith's daughter Angela
"...about as true to the original as you can get."
Times Magazine
The Rollin' Stoned - '(I Can't Get No) Satisfaction / Get Off Of My Cloud' - 
https://youtu.be/CvNSNvQCkGA
This show is Reserved Seating with licenced bar open throughout.
All disabled bookings directly through OEP Live! on 
01256 416384
PARKING: Easy Free nearby Parking to Venue on Market Hill directly in front of St Peters.  Adjacent Streets and nearby free Car Parks.
TOILETS: St Peter's has no toilets. However, we have made arrangements with Prado Lounge which is adjacent to the venue and has extensive toilets (inc disabled). These toilets can be used at anytime during the show. Also why not stop by at Prado Lounge and enjoy a pre-show meal. Prado Lounge is open until 12 midnight Friday and Saturday.
You can find all our shows on Facebook: 
www.facebook.com/oeplive
. Please do take a look and Like our page.
Saturday, 17th October 2020
Show:
8.00PM Doors: 7.30PM 
Tickets:
 Reserved Seating £25.85 (inc booking fee)