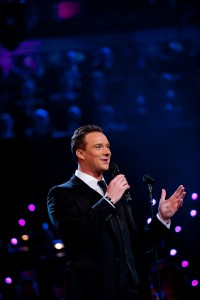 After his stunning Christmas performance at Lavenham Church in December 2018, we are very pleased to welcome the return of RUSSELL WATSON complete with The Wattisham MILITARY WIVES CHOIR and one further guest to be announced.
Russell Watson never imagined he would someday be hailed as one of the world's greatest classical singers. Since being described by the New York Times as a performer "who sings like Pavarotti and entertains the audience like Sinatra" he subsequently released ten studio albums, each one receiving more critical acclaim than the last. His debut album 'THE VOICE' shot up the UK charts where he held the number one spot for a world record 52 weeks. At the same time, Russell held the number one spot in the USA, making him the first British male to hold the accolade of a simultaneous transatlantic number one. His second studio album 'Encore' soon followed, it became an even greater success selling almost two million copies worldwide. During this period Russell was rewarded with various awards including four Classical Brits.
A very special evening  and a real exclusive Four-time Brit Classical Award winner Russell Watson, accompanied by his pianist and a talented Choir. The world-renowned
tenor will be performing a special Midsummer show with classic songs old and new, together with a selection of hits from his illustrious career. A truly spectacular concert experience is in the offering in the the heart of Suffolk in Historic Lavenham.  
Join Russell Watson in Historic Lavenham. Russell has sold more than 7 million albums and performed for Her Majesty The Queen, The Pope and two US Presidents .  
Captivating to watch and enchanting to listen to, Russell continues to wow audiences with his enigmatic and entertaining live performances.
Click Here :-
https://youtu.be/JO1y65gi2TU
"Nessun dorma" RUSSELL WATSON
It just doesn't get any better.  
The New York Times described a recent performance thus:
"He sings like Pavarotti, and entertains the audience like Sinatra"
http://russellwatson.com/
HISTORIC LAVENHAM is one of the UK's most beautiful medieval villages located in the heart of Suffolk, in central East Anglia.  LAVENHAM CHURCH  is an Anglican Church serving an active and thriving community and attracts many thousands of visitors each year extending a warm welcome to all.  This fantastic setting will be a Theatre style layout with Premier/Standard seating as well as a Bar.  (Note: Toilets are limited within the Church but there are full toilet blocks within a 1 minute walk just on the edge and in the Church yard). 
Why not also stay the Night in Lavenham and experience the magic of Lavenham and surrounding areas . You will not be disappointed.  We recommend the Lavenham Priory (01787 247404 / www.lavenhampriory.co.uk).  Stay right in the heart of Historic Lavenham where you will be looked after in style by Jonathan and Ruby and just a couple doors away from the house where Harry Potter was born!! Or at The Angel Hotel in the historic Lavenham Square (01787 247388 / www.theangellavenham.co.uk) where John Lennon and Yoko Ono filmed in December 1969.  Click here 
https://youtu.be/o7iwa7aTCOc
 and go back in time.  Also, please do enquire at The Angel Lavenham for pre-show and after show meals. Great service, food and Accommodation – Landlord John and his staff will look after you personally. 
Premier Seating: Reserved seats within Rows A-D (Call box office on 01256 416384 to book) 
Standard Seating: Unreserved seats from Row E.     
For Disabled bookings/requirements, please call the Box Office direct on 01256 416384.
You can find all our shows on Facebook: www.facebook.com/oeplive. Please do take a look and Like our page.
Thursday, 15th April 2021Show:
 7.30PM Doors: 6.30PM 
Tickets:
Premier Seats £67.65 and Standard Seats £59.95 (inc booking fee)