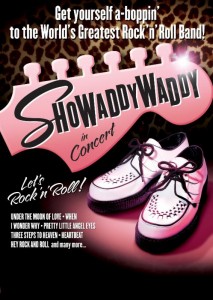 FORTY plus ! YEARS OF SHOWADDYWADDY
SHOWADDYWADDY have long been established as Europe's most successful ever exponents of retro-inspired rock & roll. The record simply speaks for itself!
23 Top 40 hit singles, including 10 Top 5 hits (Under The Moon of Love, When, You Got What It Takes, 3 Steps To Heaven, Hey Rock & Roll, Etc!)
15 massive selling albums (including the Christmas number 1 in 1978)
An incredible live show - acclaimed the world over!
In excess of 50 Top of the Pops performances, and countless Industry awards!
Royal Variety performances (one to the delight of the Queen Mother- who actually requested to meet the band post-performance)
Bill toppers at the prestigious Golden Orpheus World Music Festival before a staggering TV audience of 300 million people - making history in the process by becoming the first western-world band to be screened live in communist Cuba!
As if the band's amazing success through 4 decades were not enough, here well into the 21st Century the demand for these legendary performers is every bit as strong, which is surely a testament to their outstanding reputation as live artists.
Showaddywaddy live at Leeds (August 2019) 'Under The Moon Of Love': https://youtu.be/n1vnQSo0mqo (please click on link)
& SPECIAL GUEST EXCLUSIVELY FROM T-REXTASY - DANIELZ SOLO UNPLUGGED
Danielz, solo and 'unplugged', steps aside from his band for a short while to perform a selection of songs by Marc Bolan, played live and acoustically.  Danielz, is of course the lead singer and lead guitarist with T.Rextasy, the world's only official tribute to Marc Bolan & T.Rex. Come along and hear how famous hit songs such as '20th Century Boy', 'Get it On', 'Metal Guru', and 'Jeepster', amongst others, sound like when played strictly unplugged! Tracks that many of you would have heard electrically over the years, take on a new warm and intimate approach with just voice and guitar.  
Danielz has an album entitled 'A Dream That Lasts Forever - T.Rextasy Unplugged', that is currently available on the Madman Record label featuring 12 tracks of Bolan's music played acoustically together with a couple of songs originally penned by Danielz.
http://www.trextasy.com/
HISTORIC LAVENHAM is one of the UK's most beautiful medieval villages located in the heart of Suffolk, in central East Anglia.  LAVENHAM CHURCH  is an Anglican Church serving an active and thriving community and attracts many thousands of visitors each year extending a warm welcome to all.  This fantastic setting will be a Theatre style layout with Premier/Standard seating as well as a Bar.  (Note: Toilets are limited within the Church but there are full toilet blocks within a 1 minute walk just on the edge and in the Church yard). 
Premier Seating: Reserved seats within Rows A-D - very limited reserved seats left, please call the Box Office on 01256 416384 to book.
Standard Seating: Unreserved seats from Row E - Availability
Please do not contact Lavenham Church direct as they are not the concert organiser and will be unable to provide information. Please contact OEP Live for all enquiries (including disabled bookings) by emailing: susan@oeplive.com. A member of the Team will respond asap.
You can find all our shows on Facebook: www.facebook.com/oeplive. Please do take a look and Like our page.
Wednesday, 8th December 2021Show:
 7.30PM Doors: 6.45PM 
Tickets: 
Premier Seats £36.85 and Standard Seats £32.45 (inc booking fee)