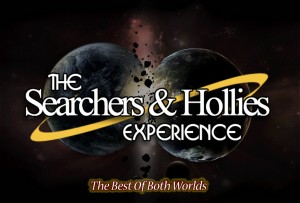 A very special Matinee show paying tribute to two of the biggest bands and hits of the 60's performed by the amazing FOD Band.

The Searchers and Hollies Experience … The best of both worlds
brings to the stage the magical hits of these two legendary harmony bands.  Bringing back memories of the most high-energy decade in pop music history.  Let the haunting melodies transport you to that exciting era when millions of records were sold.  
The Searchers
, from Liverpool made their debut with the rise of MerseyBeat.  The very first recording, Sweets For My Sweet went to number 1 in the charts.  This was followed at No.2 by their third single, Sugar And Spice.  They then went on to have many more memorable chart hits.  Who can forget Needles And Pins and When You Walk In The Room.  They had many other hits and became part of the British invasion of the American charts alongside The Beatles.  
The Hollies
, from Manchester were also pushed forward with the rise of MerseyBeat as they played many of the same venues as the Mersey groups.  The Hollies are known as the most successful British singles band ever, having had chart hits in every decade since the 60s.  Catchy melodic tunes are their trademark and they have had phenomenal chart success.  Stay, I Can't Let Go, Bus Stop, Sorry Suzanne, He Ain't Heavy He's My Brother, Here I Go Again, Just One Look and the haunting Air That I Breathe are just a few of their hits.  
Click here for show reel and audience comments: 
https://youtu.be/PtbI6yMz3Os
HISTORIC LAVENHAM is one of the UK's most beautiful medieval villages located in the heart of Suffolk, in central East Anglia.  LAVENHAM CHURCH  is an Anglican Church serving an active and thriving community and attracts many thousands of visitors each year extending a warm welcome to all.  This fantastic setting will be a Theatre style layout with Premier/Standard seating as well as a Bar.  (Note: Toilets are limited within the Church but there are full toilet blocks within a 1 minute walk just on the edge and in the Church yard). 
Premier Seating: Reserved seats within Rows A-D -

Sold-out


Standard Seating: Unreserved seats from Row E. 
Availability 

   Please do not contact Lavenham Church direct as they are not the concert organiser and will be unable to provide information. Please contact OEP Live for all enquiries (including disabled bookings) by emailing: susan@oeplive.com. A member of the team with respond asap.
You can find all our shows on Facebook: www.facebook.com/oeplive. Please do take a look and Like our page.
Wednesday, 8th December 2021Show:
 1.15PM Doors: 12.45PM 
Tickets: 
Premier Seats £24.75 (Sold-Out) and Standard Seats £22.00 (inc booking fee)