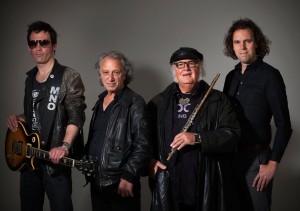 With their unique brand of progressive rock, Focus manifested themselves at the start of the '70s as the most successful and appreciated of all the Dutch pop-rock exports. Fronted by founding member Thijs Van Leer, and best known for their hits "Hocus Pocus", "House of The King" and "Sylvia", as well as critically acclaimed albums 'Moving Waves', 'Focus 3' and 'Hamburger Concerto', the iconic Dutch music masters are back with their tenth album, which is guaranteed to please their legions of fans! 
 
After a comeback in the early 2000's, which resulted in the well-received albums 'Focus 8' and 'Focus 9', the band regrouped with a fantastic new line-up. Along with Thijs van Leer on vocals, flute and keyboards, back on the drums is famed Focus drummer Pierre van der Linden, who joined the group on their second album 'Moving Waves' in 1972. Internationally renowned for his rhythmic skills, Pierre remains a defining factor in the Focus sound. Guitarist Menno Gootjes, who participated in Focus at an earlier stage, and acclaimed bass player Udo Pannekeet, complete the band's current line-up. Recently, Focus's biggest hit "Hocus Pocus" was used in a 4-minute Nike commercial before the World Cup broadcast. Focus music can be regularly heard on Top Gear and Saxondale on TV in the UK. 
 
A new Focus era has arrived! There is a rejuvenated passion amongst the band as it enters the studio to record Focus 11 and prepares to go out on the road again for a World Tour, in support of the new album, and as it builds up to its 50th Anniversary. 
 
Thijs van Leer - Hammond-organ, flute and vocals
Pierre van der Linden - drums
Menno Gootjes- guitar
Udo Pannekeet - bass 

Focus, Sylvia click on link: https://youtu.be/UVB7FgO4Jek
 
This show consists of Reserved Seating:
Premier Seats: Rows A-C
Standard Seats: Rows D-Q
All seats are Undercover 
The Lavenham Air Theatre seated layout (being moveable) can be amended on your show day to create separated 'bubbles' as you have booked in line with Government Guidelines on Show day. If all restrictions are lifted then the seated layout will remain as shown on the seated plan.
Reserved Picnic Pitches: bring your own picnics and put up your chairs and tables. Soft drinks and water allowed but please no alcohol as there will be a bar service on site.
On site parking (fee applies). We have a limited number of Self-Contained Camper Vehicles/Caravans parking spaces (24hrs on-site).
All enquiries / disabled bookings directly through OEP Live! Please email susan@oeplive.com with your contact details and requirements and a member of the team will get back to you asap.
You can find all our shows on Facebook: www.facebook.com/OEPLive - Please do take a look and Like our page.
Friday, 20th August 2021
Show: 
7.15PM Gates: 6.30PM 
Tickets: 
Premier Seats £31.35 / Standard Seats £29.15 / Car Parking £5.50 & Self-Contained Camper Vehicles/Caravans £22.00 (inc booking fee)