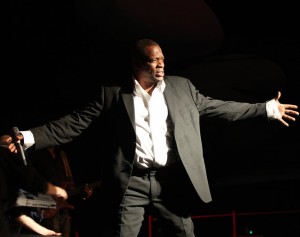 This highly distinguished and distinctive Minneapolis based vocalist, was born on 15th November 1953 in Natchez, Mississippi.
During the 70's Alexander put together his own band and by constant touring of the live circuit in the States, developed his obvious vocal talents.   In 1978 he joined Flyte Tyme with future producers Jimmy Jam and Terry Lewis.   Flyte Tyme eventually became the backing band for Prince, although due to different creative opinions parted company two years later.
The early eighties saw Alexander begin his solo career as a vocalist, making his first recordings in '84 with Jam and Lewis.   The self titled, debut solo album,  was released by a local label called Tabu (distributed world wide by CBS) and a year later generated his first UK top 10 smash "Saturday Love" as well as solid R&B classics such as "A Broken Heart Could Mend" and "If You Were Here Tonight".
In 1986 Alexander O'Neal achieved a co-production with Jam & Lewis credit on the Janet Jackson debut hit single "Control".
1987 saw the release of Alexander's second album "Hearsay" and featured major club anthems "Fake" and "Criticise" - the album sold over 700,000 copies in the UK alone.   this period saw Alexander embark on several sell out UK tours including 6 nights at Wembley Arena where his on stage antics on a bed with beautiful women from the audience pre-empted scenes similar to those from Madonna's Blonde Ambition tour a few years later.
Alexander O'Neal's popularity in the UK has been constantly reiterated with numerous sell out tours (including Princes Trust Concert) and a BBC TV special.   All his six albums have charted both in the UK and the USA - a considerable achievement! These six albums have led to Alexander clocking up over 162 weeks in the Guinness Book of Albums.
Alexander sights the legend Otis Redding as one of his major influences with a fresh respect for emerging European (R&B/Dance) talent.
The years between 1989 and 1991 saw many of his best cuts re-mixed and achieve chart status within a three year period.
Alexander's 1991 album "All True Man" demonstrated an ever-increasing fan base and led to another gold album selling over 400,000 in Europe.
Alexander O'Neal's world wide success was celebrated with a greatest hits collection in 1992, creating his second Platinum album in the UK.   His collaboration with Jimmy Jam and Terry Lewis as producers ended with the Greatest Hits album.  
He has since recorded a new album entitled 5 Questions and continues to tour extensively throughout Europe and all other territories.
Alexander O'neal  Criticize :-
 https://youtu.be/CySYwZNH65ISPECIAL GUEST - SIMON CHIVERTON performs LUTHER VANDROSS
This show is Reserved Seating.
All enquiries / disabled bookings directly through OEP Live! Please email susan@oeplive.com with your contact details and requirements and a member of the team will get back to you asap.
You can find all our shows on Facebook: www.facebook.com/oeplive. Please do take a look and Like our page.
Thursday, 18th November 2021
Show
: 7.30PM Doors: 6.45PM 
Tickets
: Premier Seats: £43.45 / Standard Seats: £40.15 (inc booking fee)