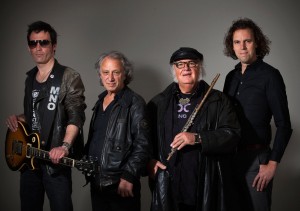 FOCUS
With their unique brand of progressive rock, Focus manifested themselves at the start of the '70s as the most successful and appreciated of all the Dutch pop-rock exports. Fronted by founding member Thijs Van Leer, and best known for their hits "Hocus Pocus", "House of The King" and "Sylvia", as well as critically acclaimed albums 'Moving Waves', 'Focus 3' and 'Hamburger Concerto', the iconic Dutch music masters are back with their tenth album, which is guaranteed to please their legions of fans! 

After a comeback in the early 2000's, which resulted in the well-received albums 'Focus 8' and 'Focus 9', the band regrouped with a fantastic new line-up. Along with Thijs van Leer on vocals, flute and keyboards, back on the drums is famed Focus drummer Pierre van der Linden, who joined the group on their second album 'Moving Waves' in 1972. Internationally renowned for his rhythmic skills, Pierre remains a defining factor in the Focus sound. Guitarist Menno Gootjes, who participated in Focus at an earlier stage, and acclaimed bass player Udo Pannekeet, complete the band's current line-up. Recently, Focus's biggest hit "Hocus Pocus" was used in a 4-minute Nike commercial before the World Cup broadcast. Focus music can be regularly heard on Top Gear and Saxondale on TV in the UK. 

A new Focus era has arrived! There is a rejuvenated passion amongst the band as it enters the studio to record Focus 11 and prepares to go out on the road again for a World Tour, in support of the new album, and as it builds up to its 50th Anniversary. 

Thijs van Leer - Hammond-organ, flute and vocals
Pierre van der Linden - drums
Menno Gootjes- guitar
Udo Pannekeet - bass 

Focus, Sylvia click on link: https://youtu.be/UVB7FgO4Jek

CREEDENCE CLEARWATER REVIEW
Creedence Clearwater Review are the UK's premier tribute to Creedence Clearwater Revival, one of America's greatest bands who, despite their relatively short career, left an enduring legacy of classic songs written and sung by lead guitarist, singer and songwriter John Fogerty. Capturing the feel, sound and atmosphere of the original songs, Creedence Clearwater Review pack all the hits and more into two hours plus of rootsy, swampy, bluesy and sometimes country flavoured rock and roll. Creedence's biggest songs, Proud Mary, Bad Moon Rising, Fortunate Son and Who'll Stop The Rain all get the treatment as well as their covers of classics like I Heard It Through The Grapevine, Midnight Special and Susie Q. There's audience involvement, singalongs and plenty of rousing choruses to join in on the Review's authentic and power packed tribute the Creedence legacy. There's also a nod to John Fogerty's solo career in the show, with songs like Almost Saturday Night, Hot Rod Heart and of course Rockin' All Over The World. Dale Taylor takes up the role of John Fogerty on guitar and vocals, which is no easy task considering Fogerty's power and range. However he fulfils the lead spot, delivering the same rawness and energy of the original performances, backed up with a solid and experienced band who stick as closely to the album tracks as possible. Performing a range of CCR material consisting of all of their biggest, classic hits, album tracks and wonderful obscurities, Creedence Clearwater Review will take you on a nostalgia trip you won't want to miss. Creedence Clearwater Review, the definitive UK tribute.

Promo Video: https://www.youtube.com/watch?v=LUMmnX1HyNI

This show is Reserved Seating. 

All enquiries / disabled bookings directly through OEP Live! Please call the box office on 01256 416384.

You can find all our shows on Facebook: www.facebook.com/oeplive. Please do take a look and Like our page.
Thursday, 31st March 2022
Show:
 7.30PM  Doors: 6.45PM
Tickets:
 Reserved Seats: Adults: £32.45 (inc booking fee)