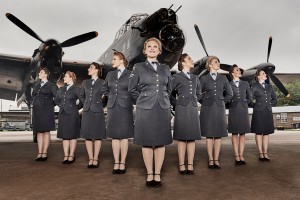 UNMISSABLE AFTERNOON MATINEE - THE D-DAY DARLINGS - JUBILEE SPECIAL
Following their success on 2018's Britain's Got Talent and their hugely successful debut Album "I'll Remember You" charting number 15 in the official album charts and receiving a BRIT Break through Award, the UK's premier Wartime Act, The D-Day Darlings, 3 key members bring their brand new stage show to Lavenham Church for a special matinee show.
The group was formed 10 years ago by founder and lead singer Katie Ashby, after Katie recognised the importance of this music and how it resonates with people like no other genre of music. Katie says, "To see how these songs affect people and how the melody and lyrics evoke such memories was truly eye-opening for me, and it was this that made me want to build a career singing these timeless songs and bring back memories for so many people" 
D-Day Darlings at East Kirkby Air Show 2018: click here 
https://youtu.be/ovI-Cw9IkCU
*
(There'll Be Bluebirds Over) White Cliffs of Dover 
* Well Meet Again * Somewhere Over the Rainbow * Don't Sit Under the Apple Tree (With Anyone Else But Me) * Keep the Home Fires Burning * Run Rabbit Run * Wing and a Prayer * Dam Busters * Mary * Pack Up Your Troubles / Tipperary * Rule Britannia / Land of Hope and Glory * 'I'll Remember You and more.  
Premier Seating: Reserved seats within Rows A to G.Standard Seating: Unreserved seats from Row H.Please do not contact Lavenham Church direct as they are not the concert organiser and will be unable to provide information. Please contact OEP Live for all enquiries (including disabled bookings) by calling the Box Office on 01256 416384.
You can find all our shows on Facebook: 
www.facebook.com/oeplive
. Please do take a look and Like our page.  
Friday, 10th June 2022Show:
 2.00PM Doors: 1.15PM (approximate finish time: 4.00pm) 
Tickets: 
Premier Reserved Seating £28.05 / Standard Unreserved Seating £24.75 (inc booking fee)