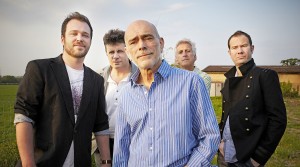 Unmissable Afternoon Matinee Show - 60's Pop & Laughter - Non-stop Greatest Hits of All Time.
Featuring live on stage - all bands with original members on the same show combined with anecdotes, memories and comedy:



HERMAN'S HERMITS



Exclusive appearance and formed in 1964 in Manchester, originally called Herman and His Hermits.  Chart hits include: I'm into Something Good : Silhouettes : Wonderful World : Just a Little Bit Better : A Must to Avoid : This Door Swings Both Ways : East West : There's a Kind of Hush and perhaps their most acclaimed recording, No Milk Today.
Between late 1964 and early 1968 Herman's Hermits never failed to reach the Top 40 in the States. Six of their 11 US Top Tens were not released as A-side singles in their native UK including the two afore-mentioned number ones, plus "Can't You Hear My Heartbeat" (US no. 2), "Listen People" (US no. 3), a cover of Noel Gay's 1937 song "Leaning on a Lamp-post" (US no. 9, under the title "Leaning on the Lamp Post") and their version of Ray Davies's "Dandy" (US no. 5). Conversely they hit big in Britain between 1968 and 1970 with several major hits which failed to register in America, among them the four Top Tens "Sunshine Girl" (UK no. 8), "Something's Happening" (UK no. 6), "My Sentimental Friend" (UK no. 2) and "Years May Come, Years May Go" (UK no. 7). Their final UK hit, "Lady Barbara" (UK no. 13), released in the autumn of 1970, was credited to 'Peter Noone & Herman's Hermits'.
Peter Noone left the band in 1971. Herman's Hermits reunited in 1973 to headline a British invasion history of the US, culminating with a performance at Madison Square Garden and an appearance on The Midnight Special. A later lineup without Noone but featuring lead guitarist Derek Leckenby and drummer Barry Whitwam opened for the Monkees on their 1980s reunion historys of the US. The band continues to history today, with Barry Whitwam as the remaining member from the original line-up.
Hermans Hermits on stage :- https://youtu.be/UvdmHI9wSMY
THE MARMALADE



Direct from Scotland, The Marmalade take to the stage and the hits will just keep on coming from the late 60's into the 70's so a real bonus!   Lovin' Things : Baby Make it Soon : Mr Tambourine Man : Summer in the City : I Shall be Released : Reflections of My Life : Rainbow : My Little One : Cousin Norman : Radancer : Just One Woman and of course  their massive Number 1 hit Ob-La-Di, Ob-La-Da !
 
Click here: 
https://youtu.be/gftjpHj06Sc
  The Marmalade  'Ob-La-Di, Ob-La-Da@
THE TORNADOS



Legends THE TORNADOS in a special one off appearance. 1960s Tornados organist Dave Watts, were signed to the infamous independent record producer Joe Meek at his home recording studio at  Holloway Road Islington. Dave joined the Tornados  in 1964 recording and touring for Joe Meek, during 1965 Meek sacked all the personnel with the exception of Dave Watts, thus creating a brand new line-up. In Winter of 1966 Dave Watts and Joe Meek, under pressure from the infamous Kray twins bedook a series of concerts abroad but 3rd February Joe Meek shot dead his landlady Violet Shenton and then himself.  Today the Tornados  employ some of the best UK musicians to carry the legend forward and creating a beat stomping show that does not disappoint.  The worldwide number one record TELSTAR performed by the classic 1962 line-up is still a huge selling record in these modern times, the Tornados  today do not only play the famous instrumentals but also perform hits by the stars that the Tornados ® backed during the sixties. The list is endless.
Check them out here : The Tornadoes Telstar https://youtu.be/DLBaD0KFEgA
Premier Seating: Reserved seats within Rows A to G.




Standard Seating: Unreserved seats from Row H.





Please do not contact Lavenham Church direct as they are not the concert organiser and will be unable to provide information. Please contact OEP Live for all enquiries (including disabled bookings) by calling the Box Office on 01256 416384.



You can find all our shows on Facebook: www.facebook.com/oeplive. Please do take a look and Like our page.  
Saturday, 11th June 2022Show:
 1.30PM Doors: 12.45PM (approximate finish time 4.30pm)
Tickets: 
Premier Reserved Seating £39.05 / Standard Unreserved Seating £35.75 (inc booking fee)