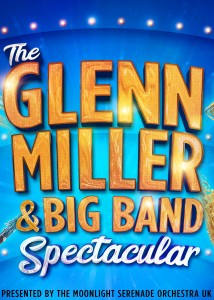 The music that filled the dancehalls during the Big Band era is brought to life again by The Moonlight Serenade Orchestra UK. The hardest swinging big band in the UK recreates the million sellers of the 40's and 50's.

Moonlight Serenade, Little Brown Jug, Pennsylvania 6-5000 and String of Pearls are just a few of the numbers that shot band leader Glenn Miller to world stardom. Pieces from other band leaders including Tommy Dorsey, Duke Ellington and Count Basie not to mention songs made famous by Frank Sinatra and Dean Martin are featured in this 2 hour show which will take you down Memory Lane and start your feet tapping.

A Big Band show that's bound to get you In The Mood
The music that filled the dancehalls during the Big Band era is brought to life again by The Moonlight Serenade Orchestra UK. The hardest swinging big band in the UK recreates the million sellers of the 40's and 50's.

Moonlight Serenade, Little Brown Jug, Pennsylvania 6-5000 and String of Pearls are just a few of the numbers that shot band leader Glenn Miller to world stardom. Pieces from other band leaders including Tommy Dorsey, Duke Ellington and Count Basie not to mention songs made famous by Frank Sinatra and Dean Martin are featured in this 2 hour show which will take you down Memory Lane and start your feet tapping.

A Big Band show that's bound to get you In The Mood
The Glenn Miller & Big Band Spectacular ft. The Moonlight Serenade Orchestra UK Click here: 
https://www.youtube.com/watch?v=soSuzsNb684
This show is reserved seating.
On site parking (fee applies). We have a limited number of Self-Contained Camper Vehicles/Caravans parking spaces (24hrs on-site).
All enquiries / disabled bookings directly through OEP Live! Please call the Box Office on 01256 416384.
You can find all our shows on Facebook: www.facebook.com/OEPLive - Please do take a look and Like our page.
Saturday, 13th August 2022
Show:
1.30PM Gates: 12.30PM (approximate finish time: 4.00pm)
Tickets: 
Premier Seats £35.75 / Standard Seats £30.25 / Parking £5.50 & Self-Contained Camper Vehicles/Caravans £27.50 (inc booking fee)