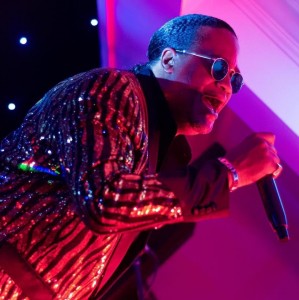 EBAN BROWN & HIS BAND - former LEAD SINGER OF THE STYLISTICS (2000 to 2017)
A real exclusive - Come experience the Magic of The Stylistics Music and don't be afraid to have a loud singalong!! Just Not to be Missed!
The Stylistics have had two lead vocalists up to 2017 in their 49 year career, Russell Thompkins Junior, who left the group in 2000 and Eban Brown, who took over from Russell and was with the band for 17 years.
Expect to hear all the classic hits including  You Are Everything, Betcha By Golly, Wow, I'm Stone In Love With You, Rockin' Roll Baby, You Make Me Feel Brand New, Let's Put It All Together, Star On A TV Show, Sing Baby Sing, Can't Give You Anything(But My Love), Na-Na Is The Saddest Word, Can't Help Falling In Love, Sixteen Bars and many many more in this non-stop evening of hits.
Hailing from Newark, NJ, Harold Eban Brown is a world-renowned guitarist, composer and singer. Eban began playing guitar and singing with several gospel groups by age seven and as he became older his interest in studying jazz guitar was influenced by Wes Montgomery, George Benson, David T. Walker, Larry Carlton, Grant Geissman, George Duke, and Bobby Caldwell. It was during this time that Eban Brown, realized another gift, that of songwriter.
In 1991, Eban Brown became the lead vocalist for his idol artist group Ray, Goodman & Brown (better known as The Moments). Although Eban was originally chosen to sign on as the group's guitarist, instead, he was instantly moved to the frontline to sing with his idol group. Later Eban would become a member of the one time Grammy-Award winning group; The Manhattans (featuring Gerald Alston and Blue Lovett).  
In April 2000, with great anticipation, Eban Brown became the lead vocalist of the world renowned Stylistics, following Russell Thompkins Jr., the original lead vocalist. 
In 2014, Eban released his fifth Album titled Summertime In Tokyo, which features an original Selection Tribute to The Late George Duke, including four very well-known remakes. One of Eban's many endeavours is to continue to record original music that people will enjoy listening to as well as write music for other artists'.
In 2015, Eban released his first Dance Selection titled Never Gonna Let You Go which was launched in the UK and has been remixed and released as an extended Dance Version by DJ Stathis of Greece.
https://youtu.be/uEhPhirh9do
 from The Stylistics-  Eban Brown & His Band 'You Make Me Feel Brand New'
https://youtu.be/95iRt5whLzA
  Eban Brown - Spend My Life With You (LIVE PERFORMANCE)
Premier Seating: Reserved seats within Rows A to G.Standard Seating: Unreserved seats from Row H.Please do not contact Lavenham Church direct as they are not the concert organiser and will be unable to provide information. Please contact OEP Live for all enquiries (including disabled bookings) by calling the Box Office on 01256 416384.
You can find all our shows on Facebook: 
www.facebook.com/oeplive
. Please do take a look and Like our page.  
Friday, 10th June 2022Show:
 7.45PM Doors: 6.45PM 
Tickets: 
Premier Reserved Seating £35.75 / Standard Unreserved Seating £30.25 (inc booking fee)