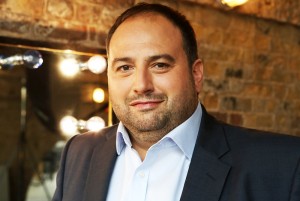 AN EAST ANGLIAN EXCLUSIVE! Book this date. Not to be missed.
WYNNE EVANS is regularly singing to millions for the TV advertising campaign that has made him a household name as the spoof opera star Gio Compario.
Although a spoof opera star in the Go Compare insurance adverts, Wynne is a professionally trained opera singer with over 25 years' experience, and has a debut album 'A Song in My Heart' that went to the Number 1 in the classical charts.
He is a regular presenter on BBC Radio Wales and has also presented on BBC Radio 3 and Classic FM, alongside starring in his very own TV series on BBC One Wales, 'Wynne At the Deep End'. 
He was honoured by the National Eisteddfod with the title of Gorsedd of the Bards, where he presented the BBC2 TV programme, and most recently performed for the Prince of Wales and the Duchess of Cornwall at their Welsh home.
Born in South West Wales, Wynne studied at the Guildhall School of Music and Drama and the National Opera Studio in London. 
Throughout his career, Wynne has worked at The Royal Opera House, Paris Opera De Lyon and the Metropolitan Opera in New York. He sang the role of PIANGI in the 25-year anniversary performance of The Phantom of the Opera, which was broadcast live from the Royal Albert Hall to cinemas worldwide and has been released on DVD.
Wynne Evans' operatic appearances have taken him to major opera houses in the UK and abroad. He regularly performs at the Royal Opera House Covent Garden where most recent and future engagements include VAKULA The Tsarina's Slippers, MAYOR Anna Nicole and SCARAMUCCIO Ariadne auf Naxos.
As a principal tenor with Welsh National Opera, his many roles included DUCA Rigoletto, RODOLFO La Bohème, ALFREDO La Traviata, and TAMINO The Magic Flute. He has appeared throughout the UK, with companies such as Opera North, English National Opera, Scottish Opera and Grange Park Opera, and has recorded several operas including Salome, Ariadne Auf Naxos and Les Martyrs.
As a lifelong supporter of Tottenham Hotspur, Wynne was delighted to perform at the team's final game at White Hart Lane and reprised the song at the opening of the new stadium to 62,000 fans in 2019.
He is also a Trustee of Grange Park Opera, and Patron of Ty Cymorth and Tenovus Cancer Care.
Wynne Evans has released a series of well received and much acclaimed classical albumns.
Click here and Check out Wynne Evans singing in his 'day job' in the Go Compare advert:- https://youtu.be/rjhZWldKJc8
Recently a Sky TV Cinema has been released and screened in Cinemas and On Sky TV. Save the Cinema is a British drama film written by Piers Ashworth, based on the true story of Liz Evans, a hairdresser and leader of a youth theatre in Carmarthen, Wales, who began a campaign in 1993 to save the "Lyric" theatre from closure. Liz Evans was the mother of Wynne Evans, a principal of the Welsh National Opera and Mark Llewellyn Evans, a member of the English National Opera and founder of "ABC of Opera". They both appear in the film in minor cameo roles.
Click here for a promotional clip of 'Save The Cinema' :- https://youtu.be/dG9Qfab6Z2s
Wynne Evans will be supported by the  WATTISHAM MILITARY WIVES
Wattisham MILITARY WIVES choir is part of The Military Wives Choirs which  is a registered charity and a network of 75 choirs in British military bases across the UK and overseas, bringing women in the military community closer together through singing. With over 2,200 members, the MWC network is tri-service and any woman with a military connection can join including those currently serving, veterans, mothers, sisters and daughters, empowering women from across the military community. The organisation is also a subsidiary charity of SSAFA.
Premier Seating: Reserved seats within Rows A to G.Standard Seating: Unreserved seats from Row H.Please do not contact Lavenham Church direct as they are not the concert organiser and will be unable to provide information. Please contact OEP Live for all enquiries (including disabled bookings) by calling the Box Office on 01256 416384.
You can find all our shows on Facebook: 
www.facebook.com/oeplive
. Please do take a look and Like our page.  
Saturday, 11th June 2022Show:
 7.15PM Doors: 6.45PM (approximate finish time 9.15pm)
Tickets: 
Premier Reserved Seating £37.95 / Standard Unreserved Seating £32.45 (inc booking fee)