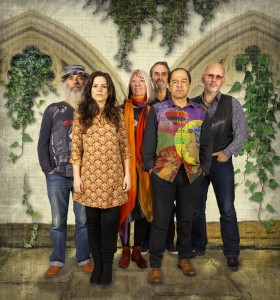 Folk Rock Pioneers Steeleye Span's 50th Anniversary Tour Continues featuring Maddy Prior.
The early 1970s would prove to be the start of a vintage period for music and the beginning of an era that would change the world. For Steeleye Span – as the previous decade had drawn to a close - it would see  them established as a major creative force.  
By the end of 1971 they had not only released their classic debut Hark The Village Wait but two follow ups – Please To See The King and Ten Man Mop - launching one of the most enduring stories in the folk world and beyond. Five decades on and the band, led as ever by the iconic vocals of Maddy Prior and with a Six piece line-up featuring some of the most skilled musicians on the UK music scene, celebrate fifty years of these famous albums, playing key tracks from all three as well as favourites and gems from their long and glittering career.
"Don't miss them..." - The Independent
Steeleye Span 'All Around My Hat' - Click here :- 
https://youtu.be/3zzwbYyvWiU
Premier Seating: Reserved seats within Rows A to D. If you have a preference of row - please email susan@oeplive.com and we will do our best to accommodate.Standard Seating: Unreserved seats from Row E.Please do not contact Lavenham Church direct as they are not the concert organiser and will be unable to provide information. Please contact OEP Live for all enquiries (including disabled bookings) by calling the Box Office on 01256 416384.
You can find all our shows on Facebook: 
www.facebook.com/oeplive
. Please do take a look and Like our page.  
Thursday, 13th October 2022Show:
 7.30PM Doors: 6.45PM (approximate finish time: 10.00PM)
Tickets: 
Premier Reserved Seating £39.05 / Standard Unreserved Seating £35.75 (inc booking fee)