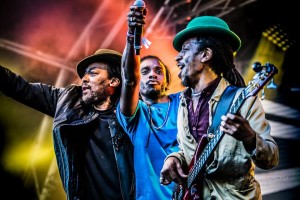 We are pleased to announce the return to Lavenham of Aswad following last August's exceptional performance.
By the mid-80's, the Aswad rhythm section of Drummie and Tony had contributed to a number of top British reggae hits by such artists as Janet Kay, Smiley Culture, Trevor Walters and Trevor Hartley.   Later in the decade, the band became known for their adventurous fusion of such different musical styles as dancehall, funk, hip-hop and dub.  Their catchword "fresh" soon became a favourite in Jamaican dancehalls.
In the 1980's Aswad signed with a new manager Les Spaine CEO of The Spaine Music Company who signed them back to Island Records for their most successful run of singles and albums on Island, Aswad earned international acclaim with their reggae version of 'Don't Turn Around', a song previously covered by both Luther Ingram and Tina Turner.  'Don't Turn Around' released on Island in 1988, sailed to the #1 slot on the UK National charts and was the most-played record on French radio as well as charting in most countries around the world - this was followed by hits such as Give A Little Love / Next to You / Best Of My Love / On & On & Beauty's Only Skin Deep.
Over the years, Aswad's recordings have found them joining forces with a variety of artists, including Dennis Brown, Maxi Priest, Hugh Masakela, Steely & Cleevie, Shabba Ranks, and Sly & Robbie's Taxi Gang.  The band has toured extensively, playing to packed houses in such diverse locales as London's Royal Albert Hall and Montego Bay's Reggae Sunsplash to West Africa, Israel and Japan.
In 1994, Aswad captured a host of new fans with the release of Rise & Shine, a recording which garnered the band's first Grammy nomination for 'Best Reggae Album of the Year.' Rise & Shine spent four weeks at the #1 slot on the CMJ New World chart and garnered a Top 10 slot on the Billboard reggae chart.  The album was also a major hit in the UK and Japan, where it produced a #1 single, Shine, boosting worldwide sales to more than 600,000.
Click here for "Don't Turn Around":
https://www.youtube.com/watch?v=xhkNb3XXats
SPECIAL GUEST - NATASHA WATTS
Natasha Watts is an international soul Singer, Songwriter, Performer and Entertainer.  Hailing from humble origins, which helped furnish the soul and the mahogany tones of this unique vocalist, Natasha has been immersed, active and successful in the music industry for some time now.
This show is Reserved Seating. 
On site parking (fee applies). We have a limited number of Self-Contained Camper Vehicles/Caravans parking spaces (24hrs on-site).
All enquiries / disabled bookings directly through OEP Live! Please call the Box Office on 01256 416384.
You can find all our shows on Facebook: www.facebook.com/OEPLive - Please do take a look and Like our page.
Saturday, 13th August 2022
Show:
7.15PM Gates: 6.00PM 
Tickets: 
Premier Seats £36.85 / Standard Seats £32.45 / Parking £5.50 & Self-Contained Camper Vehicles/Caravans £27.50 (inc booking fee)