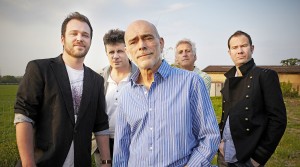 60's Pop & Laughter - Non-stop Greatest Hits of All Time.
Featuring live on stage - all bands with original members on the same show combined with anecdotes, memories and comedy:
HERMAN'S HERMITS
Exclusive appearance and formed in 1964 in Manchester, originally called Herman and His Hermits.  Chart hits include: I'm into Something Good : Silhouettes : Wonderful World : Just a Little Bit Better : A Must to Avoid : This Door Swings Both Ways : East West : There's a Kind of Hush and perhaps their most acclaimed recording, No Milk Today.
Between late 1964 and early 1968 Herman's Hermits never failed to reach the Top 40 in the States. Six of their 11 US Top Tens were not released as A-side singles in their native UK including the two afore-mentioned number ones, plus "Can't You Hear My Heartbeat" (US no. 2), "Listen People" (US no. 3), a cover of Noel Gay's 1937 song "Leaning on a Lamp-post" (US no. 9, under the title "Leaning on the Lamp Post") and their version of Ray Davies's "Dandy" (US no. 5). Conversely they hit big in Britain between 1968 and 1970 with several major hits which failed to register in America, among them the four Top Tens "Sunshine Girl" (UK no. 8), "Something's Happening" (UK no. 6), "My Sentimental Friend" (UK no. 2) and "Years May Come, Years May Go" (UK no. 7). Their final UK hit, "Lady Barbara" (UK no. 13), released in the autumn of 1970, was credited to 'Peter Noone & Herman's Hermits'.
Peter Noone left the band in 1971. Herman's Hermits reunited in 1973 to headline a British invasion history of the US, culminating with a performance at Madison Square Garden and an appearance on The Midnight Special. A later lineup without Noone but featuring lead guitarist Derek Leckenby and drummer Barry Whitwam opened for the Monkees on their 1980s reunion historys of the US. The band continues to history today, with Barry Whitwam as the remaining member from the original line-up.
Hermans Hermits on stage :- 
https://youtu.be/UvdmHI9wSMY
THE MARMALADE
Direct from Scotland, The Marmalade take to the stage and the hits will just keep on coming from the late 60's into the 70's so a real bonus!   Lovin' Things : Baby Make it Soon : Mr Tambourine Man : Summer in the City : I Shall be Released : Reflections of My Life : Rainbow : My Little One : Cousin Norman : Radancer : Just One Woman and of course  their massive Number 1 hit Ob-La-Di, Ob-La-Da !  
Click here: 
https://youtu.be/gftjpHj06Sc
  The Marmalade  'Ob-La-Di, Ob-La-Da@
THE SWINGING BLUE JEANS
An exclusive appearance of the multi-platinum hit makers 
THE SWINGING BLUE JEANS 
with an all hits set including: The Hippy Hippy Shake : It's Too Late Now : Good Golly Miss Molly : Lawdy Miss Clawdy : Long Tall Sally :  Shakin' All Over : Tutti Frutti : Don't Make Me Over and many more.  
The Swinging Blue Jeans  Hippy Hippy Shake :- 
https://youtu.be/Iml-lcEgxDA
Not to be missed! 
Premier Seating: Reserved seats within Rows A to B.  Please email susan@oeplive.com if you have a preference of where you would like to be seated - will do our best to accommodate.Standard Seating: Unreserved seats from Row C.
For any enquiries or disabled bookings - please call OEP Live! on 
01256 416384
You can find all our shows on Facebook: 
www.facebook.com/oeplive
. Please do take a look and Like our page.
Saturday, 8th October 2022
Show: 
7.30 PM Doors: 6:45 PM 
Tickets:
 Premier Reserved Seating £40.15 / Standard Unreserved Seating £35.75 (inc booking fee)