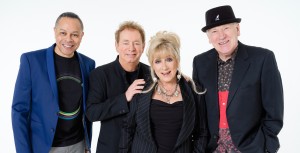 SHAKATAK  -  THE UNMISSABLE SUMMERTIME SUNDAY LUNCHTIME SESSION - THEIR GREATEST HITS AND COOL TRACKS SHOW.
"This music still glows as brightly as that first hearing...Shakatak aren't just a band, they were the soundtrack to our lives" RONNIE SCOTT'S House Magazine (UK)
"A wild diversity seldom found anymore... tons of rhythmic and stylistic variety...slamming" JAZZIZ Magazine (USA)  
Shakatak have enjoyed a level of success and career longevity rarely paralleled in contemporary music but then Shakatak is a particularly unusual group. Because of the nature of their music their fan base is one that is far reaching while always retaining an "underground" element. This paradox sees the band, who are known primarily as serious jazz/funk musicians, enjoying both high "cult" status and instant recognition as a household name due to their numerous hit recordings.  
In the past 6 years the band have performed concert dates in the UK, Mexico, Germany, Holland, Azerbaijan, Russia, Latvia, Lithuania, Bulgaria and Slovakia plus club dates at the prestigious Billboard, Blue Note & Cotton Clubs in Japan. In December 2011 Shakatak headlined at the Penang Island Jazz Festival and played a concert date in Almaty, Kazakhstan.
Their brand new release is "In The Blue Zone" which features guest appearances by the UK's top jazz singer Liane Carroll and Germany's super-star trumpeter Till Bronner.  
Throughout their 40 year career Shakatak have released over 50 CDs plus 3 DVDs and most of the band's extensive back catalogue is available world-wide on iTunes.  
For live performances the band consists of the four original members Bill Sharpe (keys), Jill Saward (lead voc, perc & flt), Roger Odell (drs) & George Anderson (bs gtr), augmented with a guitarist and a backing vocalist/saxophonist, producing a musically dynamic and entertaining show from the 6 piece line-up.
Video link: 
https://youtu.be/bQU9kEBWAXU
 'Down on the Street '
This show is reserved seating.

Premier Seats:
 Rows A to C inc
Standard Seats:
 Row D to Row Q
Picnic Pitches:
 Located to the outside of the structure on the grass to the left.  This has a good view of the stage and show sound. You are allowed to bring food, pop-up chairs and small tables but not alcohol. Upon arrival at the Box Office you and your picnic party will be shown to your picnic pitch.
Hot food will be available at this concert.
Parking:
 On site parking (fee applies).  We have a limited number of Self-Contained Camper Vehicles/Caravans parking spaces and Tent pitches.  Arrival from 12pm on day of concert.  Concert tickets need to be purchased separately. (24hrs on-site).
All enquiries / disabled bookings directly through OEP Live! Please call the Box Office on 01256 416384 / 07795 387108.
Sunday, 13th August 2023
Show:
1.00PM Gates: 12.00PM (Finish time approx: 3.30PM)
Tickets: 
Premier Reserved Seats £34.65 / Standard Reserved Seats £30.25 / Picnic Pitches £69.30 / Parking £5.50 / Self-Contained Camper Vehicles/Caravans £33.00 & Tent Pitch £22.00 (for 24hrs) (all prices inc booking fee)