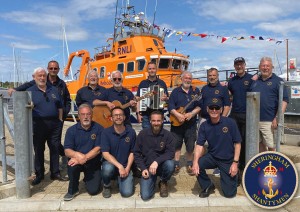 This is an unmissable afternoon Matinee performance by The Sheringham Shantymen.
The Sheringham Shantymen were formed in 1990, having started singing some 2 years earlier as a group of lifeboat men and friends celebrating the 150th anniversary of the private sailing and pulling Sheringham Lifeboat the 'Augusta'.
Over the next 26 years the group developed styles of performing songs of the sea, constantly refining their music and always trying to entertain the public and raising funds for charity.
Although the groups members nowadays are from a variety of occupations they have remained true to their roots and still maintain a very close connection with the RNLI.
The Sheringham Shantymen are immensely proud to wear the RNLI badge on their uniform and the only organisation outside the RNLI that is allowed to do so. They support the RNLI in a myriad of ways as well as supporting and performing at lifeboat stations around the United Kingdom and Ireland.
In 2020, The Sheringham Shantymen celebrated their 30th Anniversary with a number of special concerts.  
The Shantymen purchased a 'D' Class Lifeboat for the RNLI at Wicklow in 2007 named 'The Sheringham Shantymen'. They have travelled widely throughout the UK, France, Germany, Virginia USA, Ireland & Holland. They have entertained at Maritime Festivals at Great Yarmouth, Bristol, Lincoln, Ipswich, Southampton, Portsmouth, Harwich and Falmouth. They have also sung at the International Boat Show at Earl's Court, 'The Big Breakfast Show', 'Children in Need', & 'Blue Peter' for which they have 'the Badge'. More recently The Shantymen have performed on the BBC's the 'One Show' and 'Country file' and ITV's 'Ade in Britain'
Since 1990 the group has completed over 1,000 public performances, made three videos and recorded 7 CD's. The Shantymen have attended the Falmouth International Shanty Festival since its inception and feel privileged to be invited to perform once again in 2022.
https://youtu.be/ml_yEmNsaM0
  The Sheringham Shantymen View live in Concert.
This show is Reserved Seating. 
All enquiries / disabled bookings directly through OEP Live! Please call the Box Office on 01256 416384 / 07795 387108.
You can find all our shows on Facebook: 
www.facebook.com/oeplive
. Please do take a look and Like our page.
Saturday, 7th October 2023
Show:
 1.45PM  Doors: 1.00PM (Approx finish: 3.30PM)
Tickets:
 Reserved Seating £21.45 (inc booking fee)