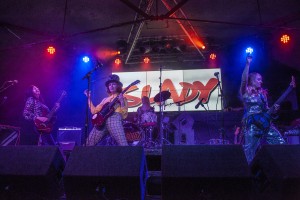 From the Producers and Promoters of the legendary annual Merry Xmas Tour 1990-2010 - 
THIS NOVEMBER /DECEMBER 2023
SLADY plus guests
Cum On Feel The Noize with The World's Only All Female Slade tribute band, SLADY!!
Join Gobby Holder, Davina Hill, Donna Powell and Jem Lea as they take ya bak 'ome to those 1970s glam rock days with all them crazee anthems!
Mama Weer All Crazee Now, Gudbye T'Jane, Skweeze Me Pleeze Me, Cos I Luv You and of course for those festive winter nites, Merry Xmas Everybody!! And many, many more...
Slady have taken the UK by storm and have been bringing the house down with their packed shows up and down the country! Giving you the authentic spirit of the foot-stomping 70s, the good time 
galz recreate the Slade sound to a T - already being dubbed the 'most authentic' and 'best tribute' to Slade that there is!
Join them for the hits, the B sides, the energy and the nostalgia of Slade!! You won't be disappointed!!
SLADY:- GUDBYE T ' JANE 
https://youtu.be/QLZVJQPFdeI
SNOG
You Wanted The Best - 
SNOG are a leading KISS uk Tribute band. 
​
SNOG recreate the party atmosphere of a classic KISS show - the glam, the spectacle, the music and the fun. We don't play at you, we want to sing, jump, and shout it out loud with you! And when we are done we want a drink and a photo with you too!
Our versions of Paul, Gene, Ace and Peter reflect each of their unique stage characters. You'll be singing fist-pumping anthems and rockin' that air guitar with your tongue hanging out before you know it – just like Gene!
We perform all the KISS classics, including Crazy Nights, God Gave Rock and Roll To You, I Was Made For Loving You and Rock and Roll All Night. We promise you will be humming something we played as your ear worm the next day - guaranteed!  If you want big rock n roll, costumes, blood, explosions, more make-up than is healthy, and a gig you won't forget, then SNOG are the band for you. Fast becoming the UK's favourite  KISS Tribute...
​
​
Remember, if you can't KISS then SNOG!

LET THERE B/DC
What makes AC/DC such an exciting, pulse pounding band and how do we recreate the fire of their live performances?
That's the main question we asked ourselves when we fired up the rock and roll train that was to become LET THERE B/DC way back in February 2011.
From the very start we knew it had to be raw, exciting and authentic as possible.
Recapturing the essence of an AC/DC performance was never going to be easy, but countless fans have told us time and time again that we've succeeded and are the closest thing they've ever heard to the real thing.
Our current five man line-up have had AC/DC running through their veins since childhood and our passion for the music injects the venom into every 2 hour plus show that we play.
We deliver all the favourites such as Highway to Hell, Whole Lotta Rosie and Thunderstruck together with rare and seldom heard album tracks such as Walk All Over You, Soul Stripper, Kicked in The Teeth and many many more.
With our 3 longest serving members consisting of Neil (Malcolm Young/Guitar), Paddy (Phil Rudd/Drums) and Steve (Cliff Williams/Bass) making up the 'engine room', it gives Dave (Angus Young/Guitar) and Andrew (Brian Johnson/Bon Scott/Vocals) room to really fly and take our show to a whole new level.
We pride ourselves on never usually playing the same set list twice, so you never know what you might hear!
Whether you've been a fan from the very beginning or never seen us live before, we go all out in every show to give you a night to remember for a very long time.
There's only one thing left to say…… Are You Ready For A Good Time?!"
https://youtu.be/BAZS04Ml_xY
 Let There B/DC  'Whole lotta Rosie'
'This show is not to be missed for all AC/DC fans.  Accurate in every way - For those about to Rock we salute you!' (John Hessenthaler)
Website: www.lettherebdc.com
This show is for a STANDING audience - unreserved seats available around the edge of the hall for those who wish to sit.
All enquiries / disabled bookings directly through OEP Live! Please call the Box Office on 01256 416384 / 07795 387108.
You can find all our shows on Facebook: 
www.facebook.com/oeplive
. Please do take a look and Like our page.
Saturday, 9th December 2023
Show: 
7.45pm  Doors: 7.00pm
Tickets:
 Standing Ticket
£31.35 (including booking fee)