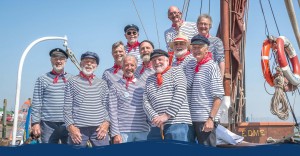 Singing shanties and songs of the sea out of Brightlingsea, Essex.
Long, long ago, a group of likeminded chaps hit on the idea of singing sea shanties for fun. Despite it being a late night at the yacht club, most  remembered the idea the day after and thus The Motley Crew was born.
From there they've gone on to sing at fetes, smack and barge matches, regattas, dinners, weddings, parties, shop openings and numerous other events. Highlights include performing at the London Marathon, the Cutty Sark, the Harwich International Shanty Festival, and the Colchester Oyster Feast. They also get together at Christmas to sing traditional wassail carols, too.
They've supported lots of charities over the years, but their main charity is the RNLI (as most of them sail, they figure it's a good investment) and they've raised thousands of pounds for this worthy cause.
They don't take theirselves too seriously. Audiences appreciate their robust, light-hearted style and so long as everyone all enjoy themselves and the RNLI gets a few more well-deserved pennies out of their efforts, that's all that matters.
Click here https://youtu.be/AM00wYwdwk0 John Kanaka 2 sung by the Motley Crew
Motley Crew on BBC Breakfast June 4, 2021 click here :- https://youtu.be/6Hjw7QY_wvs  Get That Jab and Go
This show is Reserved and Unreserved Seating.
All enquiries / disabled bookings directly through OEP Live! Please call the Box Office on 
01256 416384
.
You can find all our shows on Facebook: www.facebook.com/oeplive. Please do take a look and Like our page.
Saturday, 9th December 2023
Show
: 1.00PM Doors: 12.30PM (Approx finish: 2.45pm) 
Tickets
: Reserved Seats £15.95 / Unreserved Seats £13.75 (inc booking fee)