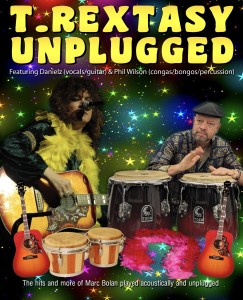 T.REXTASY UNPLUGGED - Featuring DANIELZ & PHIL WILSON
T.Rextasy 'Unplugged' brings you the songs of Marc Bolan played acoustically and sung by Danielz (lead singer and lead guitarist with T.Rextasy), accompanied by Phil Wilson (drummer with T.Rextasy) on congas and percussion.  Tracks that many of you would have heard the band play electrically over the years, take on a new dimension and feel, giving the audience and musicians a more intimate and relaxed approach to the evening.  
Come along to hear how famous hit songs such as '20th Century Boy', 'Get it On', 'Metal Guru', 'Jeepster', 'Ride A White Swan', and many others sound like, but played strictly unplugged, together with a few choice album and 'b' side tracks.
An unplugged album entitled 'A Dream That Lasts Forever - T.Rextasy Unplugged', was released on the Madman Record label featuring 12 tracks of Bolan's music played acoustically together with a couple of songs originally penned by Danielz.
Not to be missed!
Website: 
T.Rextasy - The World's Only Official Tribute to Marc Bolan and T.Rex (trextasy.com)
This show is Reserved Seating & Standing. 
All enquiries / disabled bookings directly through OEP Live! Please call the Box Office on 01256 416384 / 07795 387108.
You can find all our shows on Facebook: 
www.facebook.com/oeplive
. Please do take a look and Like our page.
Saturday, 6th July 2024
Show:
 7.30PM  Doors: 6.45PM (Approx finish time: 10.00pm) 
Tickets:
 Reserved Seating £20.35 (inc booking fee)