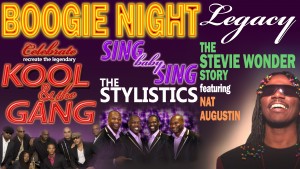 Boogie Night returns with 3 legacy acts recreated passionately in sound and vision. Kool & The Gang, The Stylistics and Stevie Wonder.
The hits just keep on coming all night long with Ladies Night, Get Down On It, Fresh Cherish, Celebration, Joanna, Too Hot, Ooh La La Let's Go Dancin and Don't Leave Me This Way, Have you seen her, I can't give you anything, Rockin' Roll Baby, I'm Stone in Love with you, You Are Everything, Can't Help Falling In Love, Sing Baby Sing, Star of a TV Show, Let's Put It All Together, and many many more!
You can find all our shows on Facebook: www.facebook.com/oeplive. Please do take a look and Like our page.
Friday, 17th November 2017
Show:
7.30PM Doors: 7.00PM
Tickets:
£27.50 (inc booking fee)