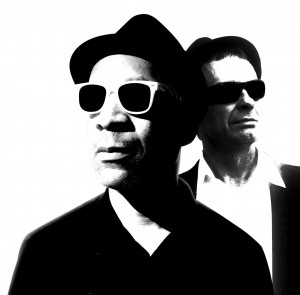 2-Tone took the British music charts by storm in 1979, and for a short, but incredibly exciting period, turned the country into a sea of black and white check. The seven young men at the heart of this musical revolution were The Specials, a band which created a blend of musical genres, mixing punk and Jamaican ska, producing an energy not seen on stage before. The Specials led the way for other bands that joined the 2-Tone movement such as The Selecter, Madness, the Beat, and the Bodysnatchers.
Bad Manners were not so much about politics, but all about dance! Whilst not part of the 2-Tone label, their infectious ska tunes were perfect for the music of the time. They were led by their iconic lead singer, Buster Bloodvessel. Hot and sweaty in his oversized jump suit and his huge tongue seemingly permanently out, Bad Manners soon built up a massive following.
Madness have been a favourite band of the British public ever since their early days as part of the 2-Tone movement. Although they moved away from 2-Tone for their 2nd album, they are still loved by rude boys and rude girls across the UK. Their 'nutty' sense of humour and their longevity as a band has won them a place in the hearts of many. Oh, and their incredible knack of producing memorable songs time after time.
These iconic bands will be represented by London-based Special Kinda Madness, who play as The Specials and Madness, and The Special Brew from Cardiff who perform as Bad Manners. Two top tribute bands who tour nationally.
The 2-Tone Tribute Tour was formed to bring back that fantastic moment in time for a generation who lived through it. It's all about the look, the attitude and, of course, the dancing!
Three and a half hours of live 2-Tone and ska music from your favourite bands including classics such as Ghost Town, Special Brew, Lip Up Fatty, House Of Fun, Can Can, It Must Be Love, Message To You Rudy, One Step Beyond and Too Much Too Young.
So dust down your pork pie hats, and put on your Fred Perry, your Harrington, your DMs or your loafers. Because you're on for a BIG night out. Let's relive 1979 all over again!

This is a STANDING, General Admission Ticket
You can find all our shows on Facebook: www.facebook.com/oeplive. Please do take a look and Like our page.
Saturday, 11th November 2017
Show:
7.30PM Doors: 7.00PM
Tickets:
£24.00 (inc booking fee)