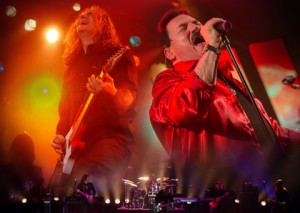 Direct from the USA - The Legendary Frontmen of Rock! All American Legends! From the tour producers of the 'Classic Legends of Rock' comes a brand new rock tour just not to be missed.
The Legendary Frontmen of Rock makes UK landfall in January / February 2018 with a line-up that all rock fans will not want to miss.
Raiding the rock vault we bring you legends of rock and non-stop classic rock hits, album tracks and rock anthems delivered the way they should be in their original format. Classic hit after hit!
FRAN COSMO (former lead singer of Boston) and his band perform BOSTON
BOBBY KIMBALL (original lead singer of Toto) and his band perform the music of TOTO
More Than a Feeling, Peace of Mind, Don't Look Back, Cool the Engines, Party, Feelin' Satisfied, Foreplay/Long Time, Amanda, Hold The Line, Rosanna, The Seventh One, If You Belong To Me, Only You, I'll Be Over You, Stop Loving You, Home Of The Brave, I Won't Hold You Back, Straight for the Heart, Change of Heart, Africa and more...
You can find all our shows on Facebook: www.facebook.com/oeplive. Please do take a look and Like our page.
Saturday, 3rd February 2018
Show:
7.30PM Doors: 7.00PM
Tickets:
£31.50 (inc booking fee)