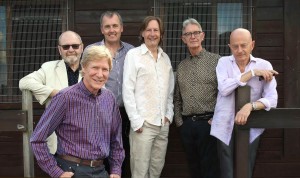 ***** SOLD OUT - please email susan@oeplive.com to be added to waiting list *****

HISTORIC LAVENHAM is one of the UK's most beautiful medieval villages located in the heart of Suffolk, in central East Anglia.
LAVENHAM CHURCH is an Anglican Church serving an active and thriving community and attracts many thousands of visitors each year. LAVENHAM and LAVENHAM CHURCH extends a warm welcome to all and new and exclusively on THURSDAY 19TH APRIL, 2018 legendary 60's Group THE MANFREDS will perform a full evening concert of non-stop Hits by THE MANFREDS themselves and select individual members such as PAUL JONES and TOM McGUINNESS of hitmakers McGUINESS FLINT.
The Lavenham Church show will be part of THE MANFREDS 'Makin' Tracks' tour 2018.
This fantastic setting will be a Theatre style layout with unreserved seating as well as a Bar. (Note: Toilets are limited within the Church but there are full toilet blocks within a 1 minute walk just on the edge and in the Church yard). Disabled requirements can also be catered for. Please mention any requirements upon booking.
Why not also stay the Night in Lavenham and experience the magic of Lavenham and surrounding areas . You will not be disappointed. We recommend -
www.lavenhampriory.co.uk
01787-247404 – Stay right in the heart of Historic Lavenham where you will be looked after in style and just a couple doors away from the house where Harry Potter was born !!
The 60's group Manfred Mann is now considered, more than ever, one of the finest and most respected bands from that era. As a result, their records have a timeless quality and some 55 years on, The Manfreds, with original front man, Paul Jones, will be performing many of their hits, including 'Do Wah Diddy Diddy', one of the most popular and instantly recognisable songs of the '60's, and still the biggest audience pleaser at their concerts, along with a new mix of Jazz and Blues covers from their album 'Makin' Tracks'
Paul Jones, with his unique harmonica sound, will be joined, as usual, by Mike Hugg on keyboards, Tom McGuinness on guitar, Rob Townsend on drums, Marcus Cliffe on bass, and Simon Currie on saxophone/ flute.
The Hits will just keep on coming
* 54321 * Pretty Flamingo * Do Wah Diddy Diddy * Sha La La * If You Gotta Go, Go Now * Oh Not My Baby * Come Tomorrow * My Name Is Jack * The One In The Middle * Just Like A Woman * Poison Ivy * The Mighty Quinn * Semi-Detached Suburban Mr. James * Ha! Ha! Said The Clown * Ragamuffin Man * Hubble Bubble (Toil & Trouble) * You Gave Me Somebody To Love * Fox On The Run * and many many more!
New and exclusive to Lavenham and presented by OEP Live!
www.oeplive.com
All wheelchair users please book directly with the Box Office.
You can find all our shows on Facebook: www.facebook.com/oeplive. Please do take a look and Like our page.
Thursday, 19th April 2018
Show:
7.30PM Doors: 6.45PM
Tickets:
£32.00 (inc booking fee)